It has been a while since we wrote about some of the reviews our programs receive, so here is an update!
Each summer, libraries across the country adopt a theme to promote reading among children. Called the Collaborative Summer Library Program, this year's theme was two fold with the slogan "Dream Big" aimed at younger children, while "Own The Night" was targeted at younger teenagers. With those two slogans taken together, our spectacular mobile planetarium, Sky Dome Planetarium, was obviously the perfect tool for luring children and families into libraries all across the country this summer.
And what a summer it has been. Our mobile planetarium tours have been visiting libraries all over the place! We have been invited into libraries in Missouri, Michigan, Nebraska, Minnesota, Tennessee, Ohio, Indiana, Michigan and many more! And everywhere the response has been universally wonderful!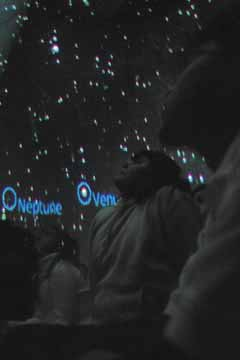 Here is a letter we just received from a librarian in Spring Hill, Tennessee:
"The Sky Dome rocked our town. About 450 people went in during the course of the day. They couldn't believe how enormous and educational it was. We're all appreciating the stars in a new way now. The presenter was excellent. I'd love to have more of your programs at our library. We were thrilled!"
And here is another from a coordinator in Wooster, Ohio:
"It was a great hit! Not one negative comment all day. The Friends who underwrote the cost were well pleased. Attendance at all five shows was 380 which was very nearly a full house at each show! The presenter did a great job and was very accommodating. He was early and ready to go. (I'm always appalled at how many performers arrive late and leave me stalling for time.) ... those who attended the early shows were calling their friends and our phone never stopped ringing ...."
Performances continue this summer all the way through late August, so if you are still seeking a way to bring some kids into your library this summer it may not be too late. Give us a call and see when the Sky Dome mobile planetarium will be in your area!
Oh, and by the way, though we love bringing our mobile planetarium to libraries, let us not forget that it's chief function is visiting schools for school shows throughout the entire school year. With several tours on the road at all times, chances are we will be coming to your state! Check to see when we can bring the Sky Dome to your school! But don't delay. Dates for the school year fill quickly and you don't want to miss out on the awesome Sky Dome!
Geoff Beauchamp is the Regional Manager of Mobile Ed Productions where "Education Through Entertainment" has been the guiding principal since 1979. Mobile Ed Productions produces and markets quality educational school assembly programs in the fields of science, history, writing, astronomy, natural science, mathematics, character issues and a variety of other curriculum based areas. In addition, Mr. Beauchamp is a professional actor with 30 years of experience in film, television and on stage. He created and still performs occasionally in Mobile Ed's THE LIVING LINCOLN.