There's a lot to learn (and teach) about Martin Luther King, Jr.'s life to our students. Martin Luther King, Jr. is known for his steps toward equality, speaking ability, non-violence philosophy, passion for education, and of course, his dreams.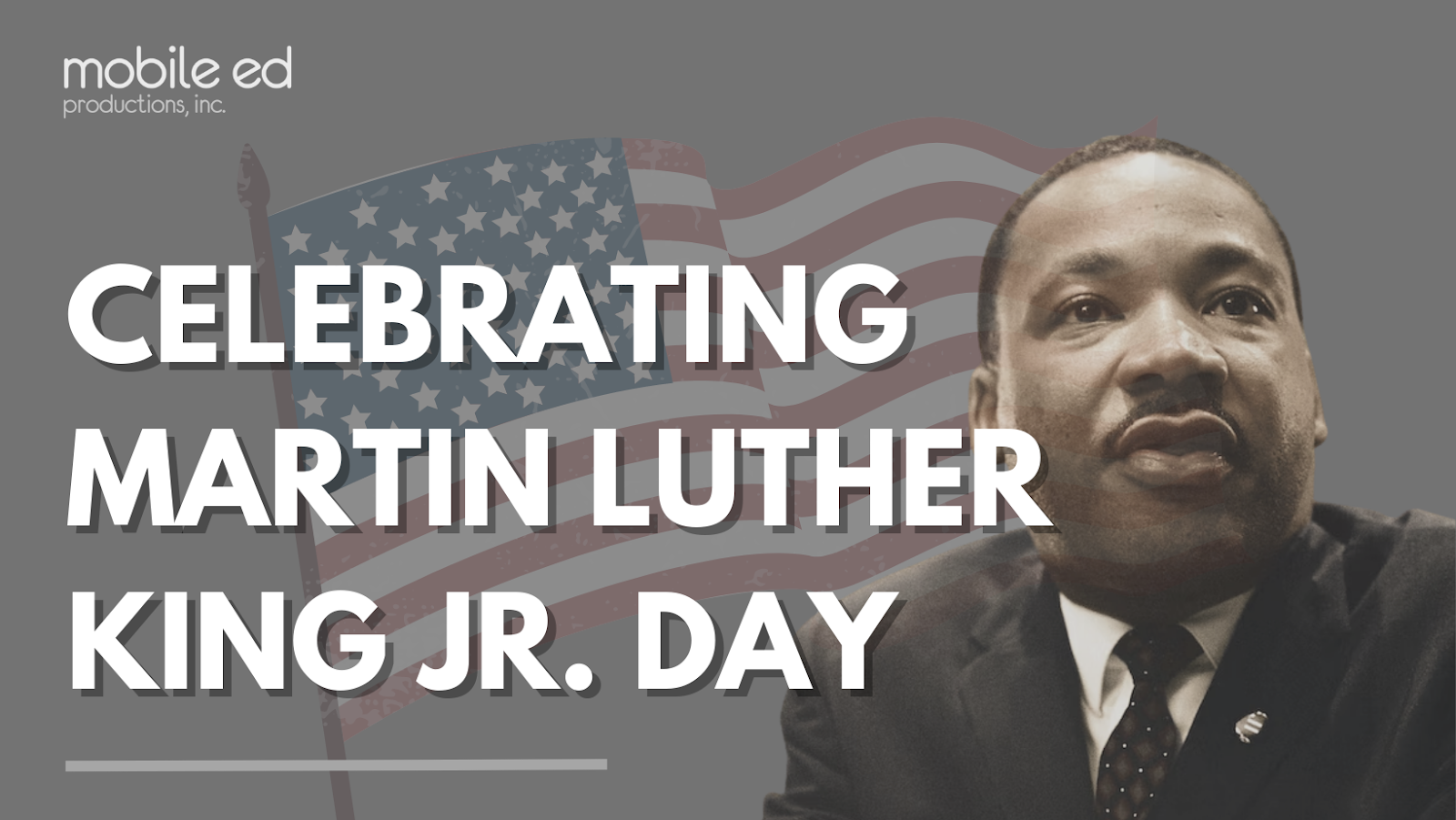 This MLK, Jr. Day, we have the opportunity to inform the next generation of Martin Luther King, Jr.'s ideals and morals in new and refreshing ways. Mobile Ed has a few activities and tips to freshen up your MLK Jr. lessons this year. Here are three different ways educators can teach MLK, Jr.'s legacy inside the classroom:
Tell a Story
Storytelling is one of the oldest and best ways to teach history. More so than facts and numbers, students can remember powerful stories when they connect to and understand the impact of those stories. Practical ways of sharing stories could include watching historical films, reading picture books, reading textbooks, and performing skits.
Make a Display
A display is an easy and effective way for students to visually connect and learn of Martin Luther King, Jr.'s ideals, influence, and relevance to the modern day. Display projects in your classroom, in a hallway, or a virtual classroom to get students thinking critically and expressing themselves creatively.
Have a Discussion
Martin Luther King, Jr. is well known for his powerful and articulate speeches. Learn and celebrate MLK, Jr.'s skills by discussing them in your classroom. The following list includes a few examples of questions you could ask in a discussion, but we recommend adjusting your questions to reflect your students' maturity level and grade level.
How does racism affect a person and society?

What would MLK, Jr. be proud of seeing in the modern day?

What does "peace" mean to you? What does doing the "right thing" mean to you?

What questions would you ask if you met MLK, Jr. today?
Mobile Ed's Martin Luther King, Jr. Program has been teaching students about MLK, Jr.'s legacy for over 30 years. Our team travels to schools, libraries, and community centers across the country so students can learn about Martin Luther King, Jr. in a fun, interactive, and memorable way. In our Martin Luther King Jr. program, students will hear "Dr. King" share powerful stories of his life first-hand. Students have the chance to participate in this program through audience interaction, questions, and songs.
In Mobile Ed's Martin Luther King, Jr. program, students learn about the following:
The life of Dr. King

Growing up in the 1950s

Morals and values

The Civil Rights Movement

Social injustice

Inequality
Check out the Mobile Ed website for more information on our MLK Jr. program. Easily contact our team with any questions or inquiries you have on our website as well.