Yeah, yeah, I know … here I go bragging again about our stellar school show performers. But, you know, when you represent people that are this cool and wonderful, it's hard not to want to tell everyone about how great they are. You know? :-) It is kind of like that silly, old t-shirt expression. You remember the one... "It's hard to be humble when you are as great as I am." Heh, heh, heh. Well, I may not be all that great (in fact my wife never tires of reminding me just how un-great I am), but some of our performers really are magnificent.

This just in this morning from a school in Portage, Indiana.
David Killian presents several shows for Mobile Ed. He has been with us for many years. He was the original presenter when we first began to offer The Earth Dome (aka The Earth Balloon) many years ago, and he is still one of our best with that program. But he now also presents both The Sky Dome Planetarium and our ultra cool science extravaganza Physics is Fun. The latter is a unique enrichment experience for schools. Normally a science program offers a 45 minute assembly. And that is very cool, no doubt. You can expose kids to a lot of really exceptional science in 45 minutes when you know what you are doing. However, we always remember things best when we are actively involved, rather than passively observing. So, with Physics is Fun, though the day begins with the requisite 45 minute all school assembly show, the rest of the day is given over to hands on workshop sessions. David sets up a dozen different physical science activity stations, with content covering magnets, water displacement, pulleys and levers, inertia and even a working hovercraft, trains some parent volunteers, and then presides over the ensuing, wonderful and magical chaos as groups of kids pass through over the course of the day experiencing for themselves all the cool stuff.
In fact, Physics is Fun has been the inspiration for our newest program, The STEM Museum, which premieres this Fall. If The STEM Museum is sold out in your area (and it is sold out now in several states), you might consider Physics is Fun as a viable alternative because it is a very similar format with similar content, and David does a great job with it.
However, for today, I wanted to bring to your attention a review that just came in not from Physics is Fun or from The Earth Dome (aka The Earth Balloon), but rather from a presentation David recently made with our Sky Dome Planetarium.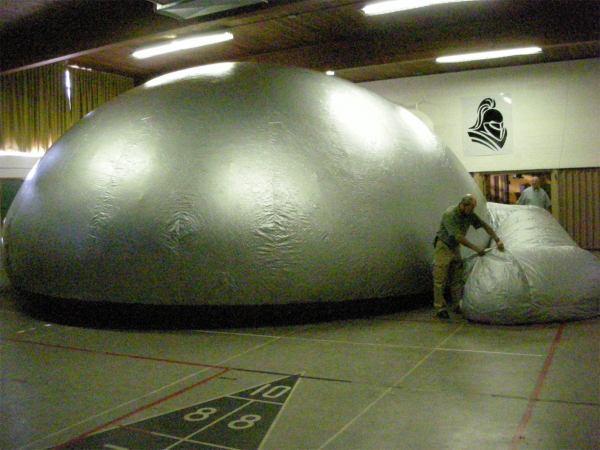 Sky Dome is, of course, the modern version of the mobile or portable planetarium concept first formulated by the old Star Labs of decades past. However, the latest technology has improved the overall experience dramatically. Space age digital technology now employed allows a star projector free use of ultra cool computer generated imagery to be shown on the inside of a huge dome enclosing up to 100 enthralled students at a time. Not to be confused with other dome programs that get by simply showing a prerecorded movie inside a dome, The Sky Dome is an actual planetarium, featuring full and interactive views of the night sky and focusing on providing an astronomical thrill ride for students of all ages. And davis is the perfect guide to the universe. The son of a school principal, and a past teacher himself, David is perfectly trained to provide an educational experience that all students love. As he guides the audience through the various aspects of the universe, david is able to speak directly to the students inside the dome, and ask questions and react immediately to the needs of a particular audience, giving more time to one area or less to another, customizing each presentation to the interactions with that particular audience.
Here is a quote from a client in Indiana who recently enjoyed The Sky Dome as presented by David:
"Geoff,
I am just following up with your presentation that was at Crisman Elementary School. This presentation was a big hit. Everything went really well and the children (and adults) loved it. The presenter was excellent. He was very good making the transition between the little kids and the older ones. I think that this is something that I would love to bring back at our school for educational purposes. I can't thank you enough for making this celebration painless for my school and myself. I look forward to working with you in the future. I have also passed your flyer to another school who might be interested. Thanks again!"
Pretty cool, isn't it?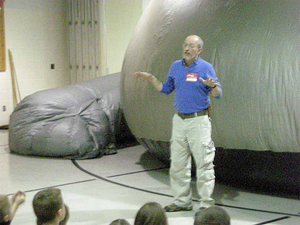 Happily, David will be joining us again in 2013-2014, and once again working his magic in school with all three shows – The Earth Dome (aka The Earth Balloon), Physics is Fun and The Sky Dome Planetarium. His tour will take him all over Michigan, Ohio, Ohio, Indiana, Illinois, Wisconsin, Minnesota, Missouri, Kansas and Texas. So if you are in one of those states and looking for school programs for next year, give us a call to see when David will be in your area. And if your school is located somewhere else, don't despair! On the East Coast we have much the same shows delivered with equal diligence and professionalism by Derek McDonald, while out West, our suave European, Mario, handles the duties with equally great aplomb. So, with these three great school assembly performers on the job, there really is no excuse. :-)
Give us a call today and see when we can come and see you! We promise that, as great as we are, we will be exceptionally humble at the prospect of being invited into your school to perform for your kids. And we will make you feel special. That's a promise!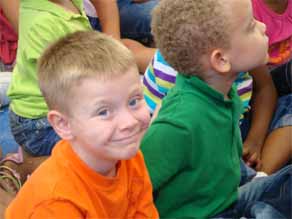 Geoff Beauchamp is the Regional Manager of Mobile Ed Productions where "Education Through Entertainment" has been the guiding principal since 1979. Mobile Ed Productions produces and markets quality educational school assembly programs in the fields of science, history, writing, astronomy, natural science, mathematics, character issues and a variety of other curriculum based areas. In addition, Mr. Beauchamp is a professional actor with 30 years of experience in film, television and on stage. He created and still performs occasionally in Mobile Ed's THE LIVING LINCOLN. He also spent ten years coordinating assembly programs for the elementary school where his own children went to school.