History and Social Studies Assembly Programs
Ben Franklin
Frederick Douglass
Mark Twain
Dr. Martin
Luther King, Jr.
The
Living Lincoln
Piankeshaw
Trails

Sacagawea
Spirit of America
The Spirit to
Overcome
Thomas Edison
Wolverine Will
Women in History
---
History Assembly Program List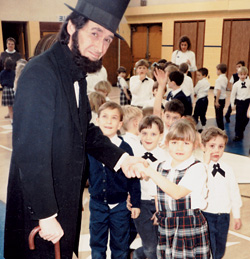 Abraham Lincoln
A vist with our greatest President! Now entering our 25th year!
Benjamin Franklin
America's founding father and a true man for all seasons!
Frederick Douglass
His early years in slavery - told by the foremost free African-Americans of the Civil War era.
Mark Twain
America's greatest writer and story-teller!
Martin Luther King, Jr.
The life and times of the great Civil Rights leader, and so much more!
Piankeshaw Trails
The history and culture of the Woodland Indian tribes of the Ohio River Valley.
The Spirit to Overcome
Voices of some of the wonderful Women of Color who have contibuted to our great nation, brought to life.
Thomas Alva Edison
The life, inventions and contributions of America's greatest inventor!
They Made a Difference
Tales of some of the great women in history!
"Marvelous! A+ This was absolutely the most exciting, well-executed program our school has had the pleasure of hosting!"

- Holy Family School, Granite City, IL

"Fantastic program and very informative! A great and innovative way to present a history lesson!"

- Pike Creek Christian School, Newark, DE