Ohio School Assembly Programs for 2012-2013
New School Assemblies for 2012-2013
The Treasure of The Six Traits (An Adventure In Writing)

Books Made The Man: Lincoln and Reading


Science and Math School Assemblies
The Invisible Wonder:Air! (New!) - Science
Crime Scene Science - Science
The Magic of Science - Science
Forces and Motion - Science
Physics Is Fun - Science
Sky Dome Planetarium (Comments) - Astronomy
The Earth Dome (Comments) - Earth Science
Our Changing Climate - Environmental Science
Animals and The Environment - Natural Science
Reptiles Are Cool - Natural Science
Imathimation - Math

Character Education School Assemblies
Stronger Than A Bully - Anti Bullying

Inspector Iwannano Show - Character Counts


Social Studies School Assemblies
Piankeshaw Trails - Native American Social Studies

The Living Abe Lincoln - Social Studies

Benjamin Franklin (Comments) - Social Studies
Mark Twain: My Stories, Myself - Social Studies
Frederick Douglass - Social Studies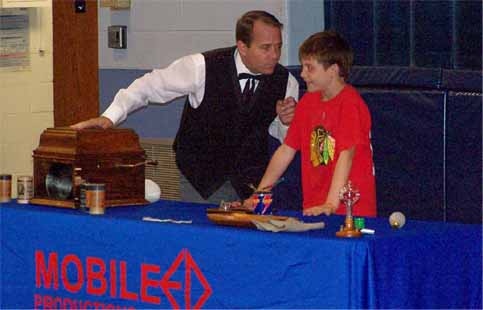 Dr. Martin Luther King, Jr. - Social Studies
Piankeshaw Trails - Native Americans
Thomas Edison - Social Studies
Women In History - Social Studies


Reading/Writing School Assemblies
Reading: More Than Words - Reading
Young Authors Day (Comments) - Creative Writing


Technology School Assemblies

Lights, Camera, Action - Television Production


Performing Arts School Assemblies
Mime Time - Performing Arts
The Earth Dome
"Outstanding!"
Barrie Alves - Principal
Jefferson Elementary, Eastlake,Ohio
Young Authors Day
"Worth every penny! The students were so engaged! It's writing made fun!"
Barbara Maceyak - Principal
Mason Elementary, Canton Ohio
Inspector Iwannano
"Our teachers and students LOVED this show! They talked about it for weeks!"
Suzanne Lester - Assistant Principal
Saint Jude School, Elyria Ohio
Here Are Some Articles About Our School Assemblies In Ohio
A lot of our school assemblies appear at Ohio schools throughout the year. Here is a newspaper article about one:
http://www.chillicothegazette.com/article/20110303/NEWS01/103030301/-1/7daysarchives/Bishop-Flaget-students-get-hands-chance-video-production ...... Read the article...
Native American Indian School Assembly perfect for Midwestern schools!
Now touring on the East Coast, Stronger than a Bully returns to Ohio and the Midwest in November!
Great Reviews in Ohio Schools!
Ohio and Indiana History - School Assemblies in the Midwest
School assemblies that teach state history and meet curriculum requirements in social studies...
Read the article!
Ohio School Shows How It Is Done - Portable Planetariums in the Ohio
Comments about one of our school assemblies in Ohio ...Read the whole article!