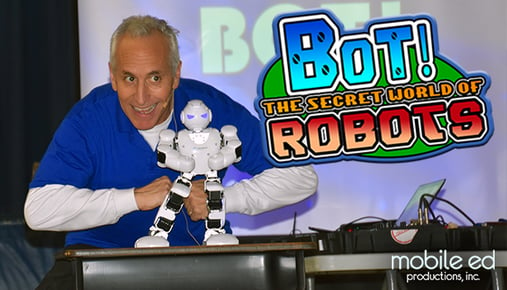 Take an inside look at how robots impact our lives today...and tomorrow!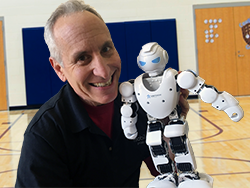 Robot – The mere mention of the word engages, enthralls, entices and excites children of all ages. In order to meet the 21st century challenge of an emphasis on STEM/STEAM education (Science, Technology, Engineering, Arts and Math), three-time Parents' Choice Award-winning performer David Jack has created a fantastic new STEM/STEAM school assembly for elementary school students entitled BOT! The Secret World of Robots. This wholly unique show is the perfect combination of entertainment and education rarely found in STEM school assemblies.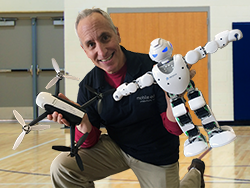 In keeping with David Jack's personal motto "No Boring Assemblies!", BOT! The Secret World of Robots is chock full of audience participation, humor and delivers curriculum-based information to students in a fun and interesting way. The show's co-star is a "wacky" virtual character named Cozmo who leads David and your students on a high-tech adventure through the exciting world of Robotics. This high-energy school assembly is rich in multimedia content and offers live, hands-on demonstrations of real robots currently in everyday use.
"We could not have been more pleased with the program David Jack provided for our school. The kids and teachers absolutely loved it!" - South Anna Elementary School, Montpelier, VA
Show highlights include:
Kids exploring the world of robot "programming" through human vs. robot competition. Age-appropriate math concepts are introduced as students discover a secret language only robots can understand.

The "real world" is what it's all about and BOT! gives students an inside look at some jobs that robots might do which help humans. During the show, the kids (virtually) meet professionals who depend on robots on a daily basis. We discuss why these jobs are good for robots and how robots sometimes do jobs better than the humans who've programmed them!

Through robots, kids actually find out how important learning Science can be for their future. BOT! – The Secret World of Robots takes students inside the NASA Curiosity Rover exploration program. Martian weather and interesting scientific facts are uncovered throughout this portion of the program.

Technology and its continuing advances play a huge role in this school assembly. David Jack and Cozmo show how scientists, archaeologists, the police and the military are constantly improving our lives through their extensive use of robots and most recently their use of UAVs or drones. An unmanned drone flight could take place at any time during this show!

As a national award-winning performer, David Jack never fails to highlight the importance of the Arts to young people (the "A" in STEAM). David Jack points to the fact that one of history's greatest artists created a drawing of what might have been the first idea for a robot almost 500 years ago! The importance of fostering the symbiotic relationship between creativity and technology has directly impacted some of the greatest advancements of the human race.
"David Jack was awesome. The program was fun, educational, interactive and held the interest of our 3,4,5,6th graders. We will look to schedule additional programs with Mobile Ed for the 2018-19 school year." - Saint Mary Magdelen School, Wilmington, DE
Kids love robots! That's why we created the show that we did. It's fun, funny, it's exciting and high-tech, it's participation, it's…ROBOTS and your students will absolutely love it.