A World of Celebration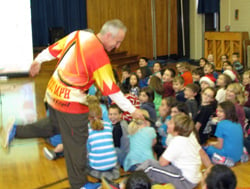 Winter is a glorious time of year. We think of family, celebrations, holidays, and the joy of music! Why not welcome the holidays in with a rousing, interactive and entertaining school assembly presented by award-winning school performer David Jack?
Our holiday-themed show, Christmahanukwanzamadan, covers all that...and much more!
This multimedia-filled, magical tour of music from several holidays presents your kids with a reminder that the world is so much bigger than our own backyard, introducing them to cultures from all over the world. The program is presented in a sing-along, concert-style with song lyrics projected on an oversized video screen.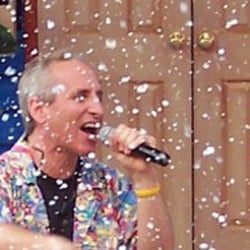 During this truly multi-cultural show, David Jack will introduce your kids to different customs, historical figures, cultures and music associated with several winter holidays. As an added bonus "finale" for the younger kids (K-2), David makes it snow right inside your school! So much more than a simple Christmas carol sing-along, Christmahanukwanzamadan will leave your kids energized and enlightened, ready for the holidays!
"I had wanted to let you know that the entire school was floored by David Jack's performance. It truly was a great show and I will make sure I highly recommend it to other schools in the area."
- Bohem Primary School 55, Staten Island, NY
| | |
| --- | --- |
| | David Jack is an award-winning children's recording artist who brings originality, humor and a refreshingly hip musical energy to his audiences nationwide. He has been identified as one of the leading presenters of elementary school assemblies in the nation. |