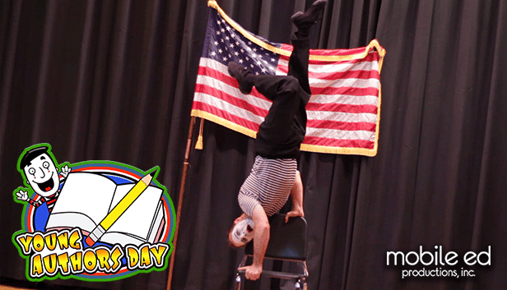 Learn the principles of storytelling, write your own story, then watch it come alive!
Young Authors Day, one of Mobile Ed's most popular programs, is designed to support and enhance the creative writing curriculum.
This rewarding day begins with an all-school assembly by a classically trained mime artist introducing students to the "art of silence". During the program, the performer discusses the differences between writing for the stage and writing for the page as the components of a story are explained. He stresses the importance of structure and he tells the students where to get inspiration for their own original stories.
Freshly inspired, your students then return to their classrooms to write their stories for the performer. During the writing process the performer stops in classrooms to answer questions and help with the writing.
The day culminates with a second afternoon assembly in which the students are recognized for their fine work. A number of their own stories are selected and are then actually acted out by the performer, live, for the entire school to enjoy.
Young Authors Day is a fascinating educational experience designed to stimulate the imagination in all of us!
"Toma gave a wonderful performance and presented the writing process in one of the best ways possible! He brought out the talent in our students and that was awesome to witness!" - St. Francis of Assisi School