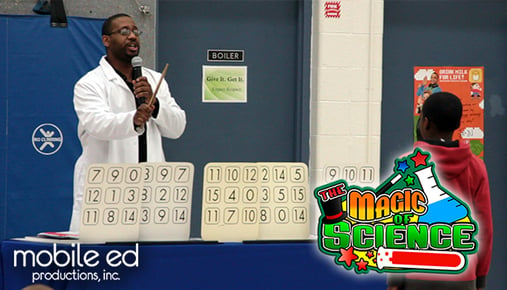 It looks like magic, but it's really science at work!
"Fantastic program! The instructor was magnificent and really related well to the students. Outstanding science performance!"
- Egremont School in Chatsworth, California
In ancient times magicians wielded tremendous power in society. Of course today we realize that the mysterious world of magic is truly the fascinating world of science. All magic is comprised of illusions and the majority of illusions are based on scientific principles. Come with us on a journey of exploration into the science behind the magic!
The Magic of Science allows everyone, both in the audience and on stage, to become a magician! Everything done in this 45-minute science assembly program looks and acts like a real magic trick. The only real trick is that everything done is science at work.
Chemistry, magnetism, optical illusions, physics, and mathematics are all demonstrated in an energetic performance perfect for children. Everything performed indeed has a scientific principle behind it - however, each of these topics will appear to the audience as a challenging and astonishing magic trick. If that wasn't cool enough...sometimes we'll tell you how to do the trick at home!
"This was INCREDIBLE!!! The presenter was fantastic with the students-- preschool through third grade. His personality and interaction with the kiddos made it so much more enjoyable. Many of the teachers commented how awesome this was! Thank you!"
- Brockway Elementary School, Winston, OR