The dream performance for guaranteed inspiration
Mobile Ed Productions is proud to present Dr. Martin Luther King, Jr., a one-man production that will introduce your students to the modern civil rights advocate and how this American hero helped to transform our society. This timely program explores the life of Dr. King, beginning with his childhood, to the peak of his career, and ultimately to his untimely demise.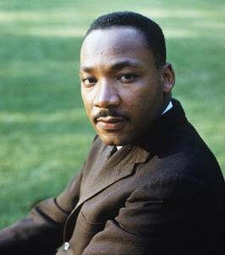 Spectators will be amazed as Dr. Martin Luther King, Jr. himself emerges from his Mobile Ed time machine to teach and tell the stories of his life, his dream, his inspiring message and so much more. Expressed through song, poetry, and powerful oration, this program delivers a powerful, important, and meaningful message of historical events and unforgettable lessons. Students learn how Dr. King's life and ideas were molded through his life-long commitment to freedom and equality and the adversity he faced along the way.
This program enables students to understand what Dr. King's childhood was like, in the most fun way imaginable, and provides important insight into life in the American south during his youth. It underscores Dr. King's message, dream, and dedication to knowledge and education. This program also highlights Dr. King's belief in non-violence and peaceful protesting as the most effective way to battle social injustice and inequality. An inspiring review of the more prominent historical events of the civil rights movement is also presented.
In a troubled society where violence is abundant, and injustice persists, the message and belief that we can succeed in making our world a better place through self-understanding, pride, education, peaceful means, love for one another, and commitment are essential for our youth. We are confident that the audience will identify with Dr. King and be inspired to heal their world as he healed his.
This fine program enriches student learning by teaching how this remarkable man made such a monumental impact on the society we live in today, and how you can do the same by following in Dr. King's footsteps.