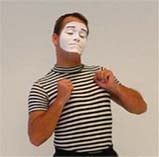 Mime Time is a traditional presentation of classical and modern mime techniques. This program is designed to introduce your students to an art form which has been practiced for centuries throughout the world. Your students will be mesmerized as our performer presents several humorous short "silent stories" which may include many familiar illusions such as walls, ropes, ladders and everybody's favorite - walking against the wind. The performer may even portray multiple characters within the same story!
Each program is followed by a short question and answer session. In the optional all-day program the students receive instruction, in small groups, of mime technique. These "funshops" exercise both the mind and the body.
Mime Time is a fascinating educational experience designed to stimulate the imagination in all of us!
Reviews
"We truly enjoyed Mime Time with Toma! We had two sessions: 1 tailored to older kids and the other for younger children. Toma adapted his performance seamlessly to both audiences and they enjoyed the show tremendously! They were engaged, responsive, asked great questions at the end of their session and had a lot of fun! The older children especially enjoyed (the) improvisation segment where one of their peers had a chance to do pantomime together with Toma. I would definitely recommend this assembly because of its educational and fun aspect, its value and great professionalism of the performer. Thank you very much for performing! We will definitely use other shows from MobileEd Productions again!"
- Hellenic American Academy. Deerfield, IL
"Our kids talked and talked about this program - they had a great day. I heard a couple of teachers say it was one of the best assemblies that had ever been here."
- Frazeysburg Elem. School, Frazeysburg, OH