Reading is the discovery of knowledge. The ability to read is the greatest tool we have in the development of education in any field. To recognize this great asset and to act upon it can be the catalyst that makes the difference between those that excel...and those that fail.
Reading: More Than Words, our newest assembly program, creates an upbeat and fun environment that leads students to explore the world of literature, including fiction and nonfiction. With an exciting set, cutting-edge graphics and unique props, the program generates interest in the audience as they first enter into the room.
Through the mystery of magical illusions, dramatic storytelling, unusual props, and multimedia presentations, students are taken on an amazing adventure into the world of books. They learn of the development of the written language, which is the foundation of books. Student volunteers participate in an amazing demonstration of memory and concentration that reveals how reading can help develop the ability to recall information more readily and even better understand that information. A display of classical reading shows how the imagination can take you on adventures in the mind that can only be experienced through this medium.
With the performer's ventriloquist sidekick, students are taught respect for the heritage of books and also that proper care and use of books is a must to preserve that heritage. Students learn how books can teach them new skills and multimedia presentations demonstrate the power of fiction and the imagination. The program concludes by showing students that the middle of their library is really the beginning of a thousand adventures, and that reading is more than words!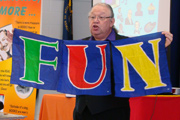 My staff agrees that this was the best one yet. The children were spellbound!
- Newby Elem. School, Speedway, IN
Our prices are among the most competitive in the school assembly industry. Please call your state's Program Consultant at 800.433.7459 for the best pricing on this program.