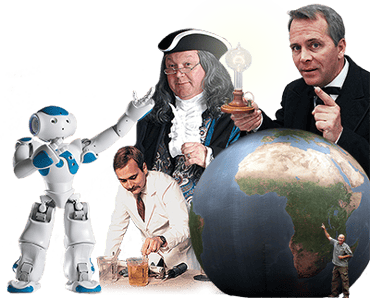 We work hard to bring you the best educational entertainment available, but don't take our word for it; read some reviews from our satisfied customers.
We've organized our reviews by show title so you can easily find reviews on the school assemblies that suit your interests. If you would like comments from a particular area, e-mail your state's program consultant.
If you're looking for information about our assembly programs, please head over here to take a look at our entire catalog of educational shows.
Rave Reviews
"In my fifteen years at Johnson Elem. School, this was "Bar-None" the best program. The primary grades will identifity with Ben Franklin throughout their elementary experience. The upper grades now know him as a person."

- Johnson Elem. School,
Scottsburg, IL

"This is one of the best programs we've had this year. It was very educational and extremely fun!!"

- Allen Avenue Elem. School,
North Attleboro, MA

"Wonderfully presented. A good balance between educational content and entertainment. Our students and staff really enjoyed this program. Thank You!!!"

- Rolling Ridge Elem. School,
Chino Hills, CA

"Marvelous! A+ This was absolutely the most exciting, well executed program our school has had the pleasure of hosting!"

- Holy Family School,
Granite City, IL

"Our students were amazed by the program. We had students that were inspired to further research some of the topics covered. An excellent program!"

- Saint Paul's Parish Day School,
Ventura, CA

"Everyone loved this show from K - Adults. Teachers rated this as one of the best assemblies we've ever had. Children's imaginations were sparked and they did some awesome writing."

- Briarwood Elem. School,
Warren, MI

"Students and staff were very complimentary and enthused. The performance was positive, informative and engaging for all ages."

- Project Primetime/Ash Creek Intermediate School,
Monmouth, OR

"We loved how the performance for the younger audience was at the kids level - not above their heads. It was interesting, entertaining and educational. Thanks very much."

- Meadow Green Elementary School,
Whittier, CA

"Fantastic program and very informative! A great and innovative way to present a history lesson!"

- Pike Creek Christian School,
Newark, DE

"We loved this program! The kids were going crazy and the teachers said it was one of the best assemblies they've seen. It was great - Thank You!!!!!"

- Evergreen Elem. School,
Scotch Plains, NJ

"This is the best presentation that I have seen in 30 years of educational presentations. He had the students in the palm of his hand."

- Monac Elem. School,
Toledo, OH

"Our school loves your programs. We are very pleased with everything Mobile Ed provides for our students. You are a great company to work with. Thank you."

- Valley School
Sugarloaf, PA
If you would like reviews from a specific show or area, e-mail your state's program consultant from the contact page.
Reviews of Our Assembly Programs
Select a show below to view recent reviews from around the nation
Science Assembly Program

Grades K-8

Natural Science Assembly Program

Grades K-8

Science and History Assembly Program

Grades K-9

BOT! The Secret World of Robots

STEM/STEAM Assembly Program

Grades K-6

Astronomy Assembly Program

Grades K-12

Multicultural Assembly Program

Grades K-2, 3-6

Science Assembly Program

Grades K-8

History and Civil Rights Assembly Program

Grades K-12

Geography and Earth Science Museum

Grades K-8

Science Assembly Program

Grades K-8

Mindfulness and Meditation Assembly Program

Grades K-6

Historical Character Assembly Program

Grades K-8

Character Building Assembly Program

Grades K-6

Historical Character and Reading Assembly Program

Grades K-8

Historical Character Assembly Program

Grades K-12

Science Assembly Program

Grades K-6

Reading, Writing, and History Assembly Program

Grades K-8

Performing Arts Assembly Program

Grades K-9

Meteorology Assembly Program

Grades K-8

Astronomy Assembly Program

Grades K-8

Science Assembly Program

Grades K-8

Character Building Assembly Program

Grades K-6

Music and Reading Assembly Program

Grades K-6

Living History Assembly Program

Grades K-9

Health and Wellness Assembly Program

Grades K-12

Portable Planetarium/Astronomy Assembly Program

Grades K-8

Music and Music Theory Assembly Program

Grades K-6

Patriotic Assembly Program

Grades K-6

African-American History Assembly Program

Grades K-9

Stand-Up, Step-In, Stop Bullying!

Anti-bullying Assembly Program

Grades K-6

Portable Hands-On Museum Assembly Program

Grades K-6

Portable Hands-On Museum Assembly Program

Grades K-6

STEAM Assembly Program

Grades K-6

Historical Character Assembly Program

Grades K-8

Historical Character and Science Assembly Program

Grades K-8

Historical Character Assembly Program

Grades K-8

Michigan History Assembly Program

Grades K-6

Historical Character Assembly Program

Grades K-8

Reading, Writing, Storytelling, and Performing Arts Assembly Program

Grades K-9