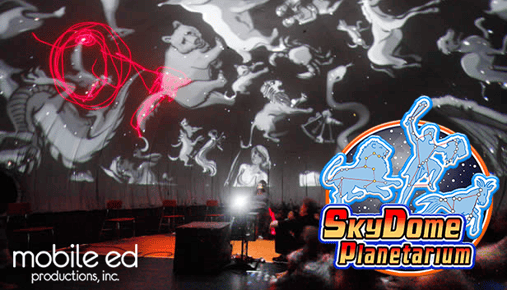 Are you ready to blast off?
Take your students on a 45-minute journey through the universe from the comfort and security of your own school. Our portable, inflatable planetarium will come right to your location and dazzle your budding astronomers as they are taken on a tour of the solar system.
Students will enter the dome and be introduced to a "star filled" sky. Our navigator with the use of a digital planetarium projector and a laser pointer, will guide students through the stars of the Northern Hemisphere exactly as they appear on the day of the presentation.
Students will learn how to identify every planet in our solar system in dramatic "flights" towards each world. They will be introduced to Greek mythological characters and see how these heroes of the past can be found in the stars. Students will witness the night sky in different seasons and from different global perspectives.
We bring the planetarium to you!
The SkyDome Planetarium can be quickly and easily set up in most gymnasiums or other large rooms with a high ceiling. It has delighted students in thousands of schools throughout the country and we are confident that you will be thrilled by the excitement and enchantment this program offers. All presentations are tailored for each age group (K-8) and will provide appropriate academic content.
Two different domes are available for our west and southwest territory schools. The small dome can be used in a classroom-size setting with up to 40 students at a time. The large dome can accommodate up to 90 students per visit. The dome is also handicapped-accessible.
"There was not a kid that left the dome that was not smiling. Everyone thought it was great and many of the kids could not wait to see the show again and bring back their parents. We had teachers asking to do this every year. Our presenter was amazing and worked non-stop. We were so happy to have Mobile Ed and will definitely be having you guys back again. Thank you!" - West Lake Elementary School
"We loved this! Teachers were very pleased with the presenter and most impressed that students returned to class with even more questions and asking to do units on the stars! We will definitely consider this for next year" - Mater Academy Mountain Vista

"What a fantastic assembly! This is our school's third assembly we booked through the company and we are as always so pleased with the outstanding program! Students and teachers both enjoyed it very much!" - Union Elementary School, West Chester, OH