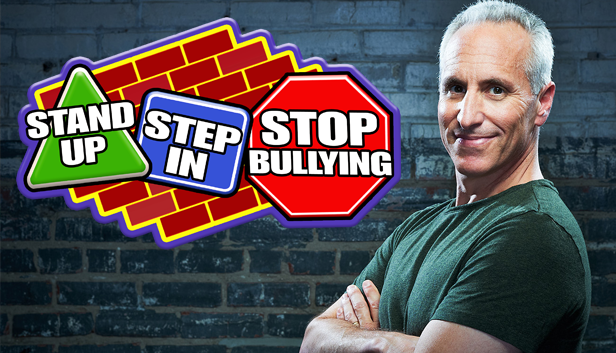 Stand up to bullying!
In an effort to bring to light the problems facing millions of elementary school kids, Mobile Ed presents a fan-favorite program: Stand-Up, Step-In, Stop Bullying!
Utilizing massive amounts of audience participation, your presenter will take your kids through a multi-media spectacular show which includes music, movement, virtual characters, dance, interactive game shows, and a generous helping of fun!
Using humor and participation, the presenter and their high-tech virtual character friend Cozmo, entertain and engage your kids and teach them how to identify the players in a bullying episode and more importantly how they should deal with it. They will learn how to recognize situations where bullying will likely occur and how to best avoid those situations.
The following essential subjects are introduced:
• Characters in a Bullying Situation: Utilizing a fast-paced interactive video, the kids learn the components of a bullying situation and clearly recognize those involved.
• Recognizing the Bully
• Strategies for Dealing With Bullying
• How it feels to be a victim
• What distinguishes a victim
• The differences between direct and indirect bullying
• The differences between teasing and bullying
• The importance of the bystander
• Standing up for yourself by being assertive• How to avoid the "Bystander to Bully" syndrome
• Avoiding bullies
• Difference between "telling" and "tattling"

• And more!
Note: Bullying is a serious national epidemic and should be included in every school's curriculum. This performance and the pertinent information are presented in an entertaining, age-appropriate manner. Scary situations or subjects involving serious violence are NOT presented.