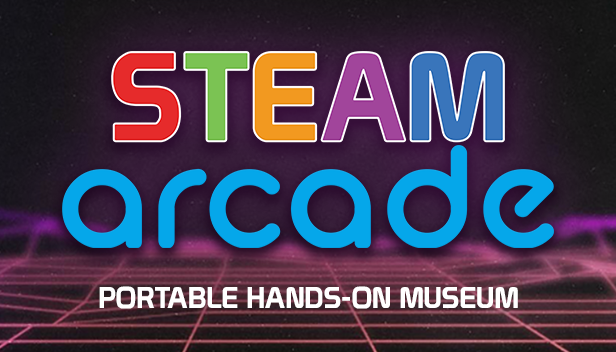 New for 2020! Bring the arcade to you!
Mobile Ed's STEAM Arcade is here, ready to turn your event into a fun-filled arcade full of games to inspire imagination and exercise your students' minds. Brand-new for 2020!
The games of STEAM Arcade have been designed to build skills such as pattern recognition, motor control, eye-hand coordination and teamwork through gameplay. Students will be invited to not only play, but to examine all of the elements at work – the lights, the sounds, the logos, the color schemes, and even the programmed movements all convey a message. All of those elements go into game design, and all of those elements are what make up STEAM.
STEAM Arcade includes at least ten different arcade-quality games appropriate for ages 5 and up. In addition, colorful banners guide the experience and provide additional information and history.
We take care of everything! We come to your location, set up the fun, and you and your kids enjoy. The flexible structure of STEAM Arcade is great for school assemblies, special events, fundraisers, fairs, and more!

Interactive, hands-on learning
One of the earliest things we teach is to recognize patterns. Many early educational toys are built around placing objects in order or identifying outliers. But as we age, we learn to recognize more complicated patterns – from musical composition to understanding traffic lights, our lives are built around the practice of identifying characteristics, establishing where we've seen them before, and noticing the order and rate of their occurrence.
Pattern recognition on a sophisticated scale is a skill directly related to game design and – perhaps more importantly – success at playing games. While reflexes play a crucial role, pattern recognition is instrumental not only in game-playing, but also in physical sports and in many careers.
As we move into a bright, new tomorrow, there grows a need to learn how to interact with computers – both on an intellectual level, in terms of how we talk to and interface with computers, and on a more physical one. Engineers now have to consider ergonomics and hand-eye coordination when designing systems, including interactive games.
At Mobile Ed's STEAM Arcade, students will not only be prompted to examine the ergonomics and design of the games they play, but they will discover statistics, probability, geometry and physics along the way. They will learn by doing in the way they like more than anything - by playing games!
Just a few of the exhibits in Mobile Ed's STEAM Arcade...
STEAM Pinball
The world's first educational pinball machine, STEAM Pinball is a state-of-the-art simulation that allows kids to explore gravity, friction, geometry, addition, subtraction, and positive and negative numbers through timeless pinball gameplay.
Pixel Arcade
All programmers have to start somewhere – and where better than to start with studying some of the first, and simplest video games? Students will be invited not only to play, but to examine the graphic and logic elements at work of three of the most influential games in history in a way they've never seen them before.
Playback Memory Game
Test your memory and reflexes with this hands-on game that will give your brain a workout! Recognize the patterns and tap into your short and long term memory to win.
Buzz Wire
A classic science museum exhibit! Students have to keep their hand steady as they attempt to pass a loop over a wire bent with increasingly difficult curves. If they touch the loop to the wire, they'll complete the circuit, it will beep, and they'll have to start over again. A fun way to learn about basic circuitry!

Mash Machine
All ages can create their own music featuring an amazing level of control at this intuitive exhibit. You don't even know how to play an instrument or read music - anyone can do it! Students have to communicate and work together as well as recognize patterns in order to make their own hit songs.
Star Team
You will have to work together in order to figure out the spaceship's massive control panel and pilot it through one disaster after another. Real-life teamwork and communication skills are crucial to getting a high score!
And more!