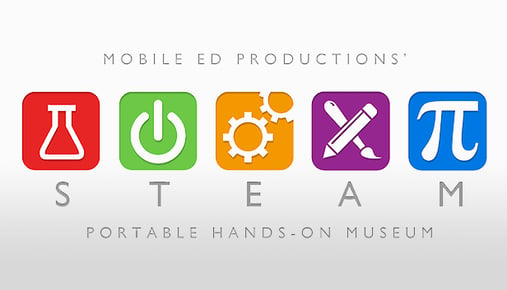 What if You Could Bring a Science Museum Right to Your School?
Hands-on learning is one of the most effective ways for students to learn and retain academic material. With 12 STEAM-related hands-on exhibits suitable for students of all ages, you'll find jaw-dropping, mind-blowing activities that will augment your existing science and math curriculum and introduce new topics, fields of study, and technologies they've never experienced before. Not only does this program teach and demonstrate STEM topics, but we put the "A" in STEAM by opening up your students' right brains to the wonderful world of creative thought through activities that encourage creative and divergent thinking.
Mobile Ed brings the STEAM Museum right to you! This program turns your gymnasium, or multi-purpose room into a state-of-the-art, hands-on children's museum focused on STEAM education (Science, Technology, Engineering, Arts, and Math). Stations students can experience include robots, virtual reality, 3D printing, art, engineering, and more! The STEAM Museum allows educators to save on admission and travel costs and is accessible for all students to participate. No more messing with arranging bus rides and permission slips!
It was a wonderful experience for our students. The presenter did an outstanding job, the museum was very kid-friendly, and the materials were organized.
- Rachel Close, Ostmann Elementary School

Interactive, Hands-On Learning
The STEAM Museum truly has something for all grade levels and interests! From building with magnets and programming a robot to 3D printing, we bring experiences to your doorstep that your students may have never had—and plenty of them!
Students are encouraged to explore the museum at their own pace and manage their time between exhibits that appeal to their interests. Adult supervision from the Mobile Ed presenter and parent volunteers will be present at some of the exhibits to focus the students and to enhance the experience with small group instruction.
The STEAM Museum Exhibits
We are committed to keeping the STEAM Museum a cutting-edge experience. Every year, we invest in new exhibits so educators can bring this program back year after year and always experience the latest technologies and most relevant activities. Whether a new exhibit or one of our classics, each exhibit will always help students experience important STEAM principles in the most entertaining and memorable ways.
Here are just a few of the exhibits included this year!
Virtual Reality Expeditions
Travel through time and space with our high-quality virtual reality expeditions! These advanced VR headsets give students a very realistic and immersive journey through the solar system, prehistoric eras, and important landmarks. Volunteers will help students use the virtual exhibits and guide them through the virtual tour. Watch students as they become amazed by our history, planet, and solar system. Multiple students can use this exhibit at one time.
Buzz Wire
The Buzz Wire is a classic science museum exhibit! Students must keep their hands steady as they attempt to pass a loop over a wire bent with increasingly difficult twists and turns. If a student touches the loop to the wire, they'll complete the circuit, it will beep, and they'll have to start all over again. The Buzz Wire is a fun way to learn about basic circuitry and principles of electricity!
3D Printer
This exhibit provides an amazing demonstration of state-of-the-art 3D printing technology in action. Students watch as the printer creates a 3D model while the completed design is also visible on a computer screen right before their eyes! Completed example models are also displayed to demonstrate other practical (or just plain fun) objects and uses that can be created with a 3D printer.
Rock the Bike: Spin Art
Using teamwork and principles of physics, simple machines, and energy conversion, students get to make unique art that they can take home with them and hang on their walls. While one student peddles on a stationary bike, another uses non-toxic paint to create their masterpiece on a spinning wheel. Students will enjoy experimenting with how different motions, colors, and hand movements change their art! The students let their creations dry before picking them back up at the end of the day.
Programmable Robots
There are several different robots at the STEAM Museum that students get the chance to program! From rovers to humanoid robots. Some can even dance or speak to your students! One of our favorite robots advances students' understanding of coding and their ability to code by using a tablet to program and control the robot's movement! The robots are many students' favorite exhibit at the STEAM Museum.
Electronic Digital Microscopes
These high-tech, state-of-the-art digital microscopes allow students to experience the science around them in a way they've never seen before. Whether they put a coin or a leaf under the microscope, they are bound to be amazed by the new close-up perspective they get when using the powerful magnifying lens. Several different slides of unique and interesting objects are available to provide the best and most interesting experience possible.
And much more!
"Not only did Mr. A.J. present the STEAM principles in a fun and engaging manner, but he also provided excellent character and career education for the students as well. The students hung on his every word along with their teachers. Many commented on how it was the best assembly they had ever seen. Thank you!"
- Culbertson Elementary School