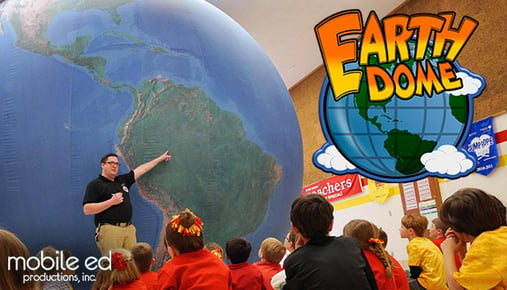 Discover geography on an epic scale
The Earth Dome is a gigantic inflatable earth balloon standing 19-feet high and 22-feet in diameter. It's made of 24 huge panels silkscreened with photographs shot from satellites of the surface of the world on cloud free days. It has been used extensively across the United States to educate students about geography as well as environmental issues.
This assembly allows for up to nine half-hour assemblies in which 35 to 45 students (depending on grade level) and one teacher will have a presentation both outside as well as inside the balloon. They will see and better understand the scale of concepts such as continents, time zones, latitude, longitude, and more! Even major cities in comparison to the total earth will be recognized. These topics are presented to each class at the appropriate grade level. Although, the visit to The Earth Dome is just a 30-minute assembly, seeing and understanding the Earth as it appears from space, as opposed to painted globes or drawings, is an experience not soon forgotten.