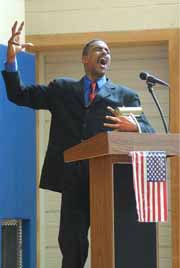 February, also known as Black History Month, is almost upon us. Schools everywhere generally like to mark this with special events and programs celebrating this part of our shared culture, Have you made your plans yet?
If not, we have good news for you. Mobile Ed offers several school assemblies perfect for meeting this need and in an exceptional fashion.
Martin Luther King is a 45 minute program dealing with the life and impact of this extraordinary icon of our nation's history, while The Life and Times of Frederick Douglass focuses on the life of the leading free Black leader of the Civil War era. For an in depth look at the impact and importance of women of color, we have The Sprit to Overcome.
Though many schools have already scheduled these great school shows, we still have limited dates available for one or more of these shows during February in the following states – Illinois, Ohio, Kentucky, West Virginia, California, New York, New Jersey, Maryland, Delaware, and all of New England.
So, give us a call! See what we can bring to your school to enliven your February.