Our hilarious and inspiring Young Authors Day assembly program has been a beloved annual event for hundreds of schools nationwide, but just as many haven't given this excellent program a close enough look to realize just how much they've been missing out! Watch this short video to see what Young Authors Day is all about.
---
See what a day of the hit school assembly program "Young Authors Day" is like in this short, funny video.


Young Authors Day is a full, fantastic day that supports the creative writing curriculum. It's filled with laughs, fun, and most of all imagination. It even doubles as a cultural arts program!
The fun begins when your presenter - a mime - shows up at your school! Then, your students will be treated to a hilarious, interactive sketch comedy mime show.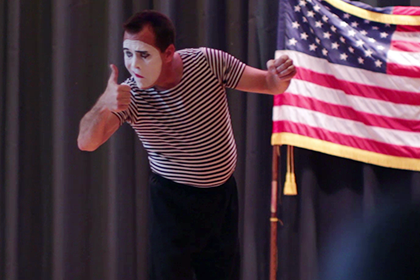 Don't worry - it's not all just fun and games! After each sketch, we talk about the importance of story structure, how to tell stories for both the stage and the page, as well as how to nurture inspiration to write your own original stories.
At the end of the morning assembly, the students are sent back to thier classrooms to break into teams and write their own stories. While they do this, the mime changes out of his/her costume and visits each classroom to help guide and give pointers to the students as they develop their ideas.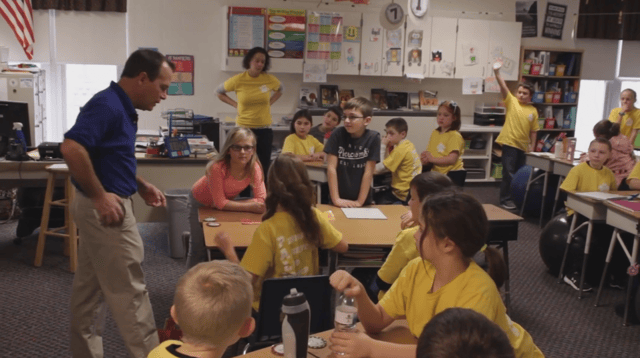 During lunch, your mime will read every one of the stories and will select the best ones.
Then, later on that day, you'll have a second assembly with your students, only this time the sketches performed will be the ones written by your students!
Young Authors Day is a completely satisfying day full of imagination and inspiration that may just plant the seed to help today's young authors grow into the best sellers of tomorrow!
---
Love what you see? Booking a Young Authors Day couldn't be easier. You can call Mobile Ed directly at 800-433-7459 or click the button below to learn more about the program.