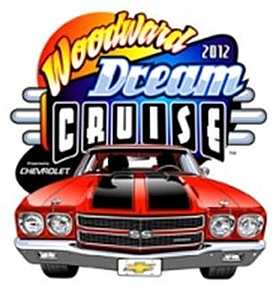 Living in Michigan, people here sometimes feel the scorn of the rest of the nation. Let's face it, everyone all over this great nation, loves to heap scorn upon the city of Detroit. And, to be fair, the city of Detroit is not exactly a poster child for elegant and successful urban environments. But to be equally fair, Detroit itself is only a piece of a much, much larger regional metropolis that includes many wonderful places and people, despite what an arrogant and often short sighted national press likes to print. Moreover, the greater Detroit area has a glorious and storied past, full of accomplishments which, in a more fair world, might earn the respect and thanks of what should be a grateful nation.
In the early part of the 20th century Detroit put America on wheels, and contributed mightily to the birth of American manufacturing power. In World War II, it was the massive industrial might of Detroit, more than anywhere else in the country, that powered the war effort and built the machines that allowed U.S. troops to take on the Axis. In the sixties, the music of Motown sang out across the globe. Even today, the economic muscle of the resurgent Big Three powers a host of other smaller businesses across the country in a way that is contributing to a slow but certain economic revival.
And this week in Michigan, the locals throw a party in celebration of everything that has made this city great... or at least everything that relates to automobiles. Call it a car show. Call it an exercise in nostalgia. Call it an excuse for a party. Whatever you call it understand that this week is Detroit's own very specific and personal answer to the Octoberfest in Munich, or to the Mardi Gras in New Orleans. This week is the week of the Dream Cruise.
Officially a one day event scheduled for this Saturday, in reality the Woodward Dream Cruise has grown into a week long party. Longer, really, if you count all the preparations and preshow warm up drives that take place all summer. But, officially, as a one day event, The Woodward Dream Cruise has become, over the last twenty years, the single largest one day car show event in the world.
For those who don't know south east Michigan, Woodward Avenue is the main drag in town. A storied boulevard stretching from downtown Detroit in a straight, north westerly line some twenty plus miles to the city of Pontiac where it performs a sweet loop around the old downtown. Along the way passing the defining boundary of Eight Mile Road, city limit of the real Detroit, and made famous in the film by Eminem, before passing steadily onward through several towns and cities. Each was once a distinct entity, but now all run together into a vast suburban sprawl of various socio-economic interests spreading from the artsy Ferndale through the young and hip Royal Oak into the wealthy and conservative Birmingham and on into the wealthier and more conservative Bloomfield Hills before crossing the tracks into the decidedly gritty and blue collar Pontiac.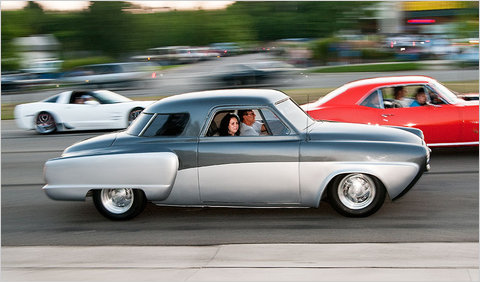 Once, many years ago, in the happy daze of Eisenhower America, this wondrous divided ribbon of asphalt was the scene of an endless evening parade of idle teenaged boys cruising endlessly in rumbling wonders of American iron, with bobby soxed beauties perched on the naugahyde seats beside them, racing from light to light before pulling into the famed Ted's drive-in to grab a malt and a burger before heading south once again in a never ending right of adolescent passage. Every town had a road like this, but here, in the Motor City, where the cars themselves were made, where men sweated over assembly lines creating rolling, rumbling, roaring works of industrial art, the "cruise" took on it's highest form. Forget California. Forget everywhere else. When it came to cars, no one loved them like the guys that made them, and nowhere was the Saturday night cruise more celebrated and glorified than in the Motor City and on Woodward Avenue.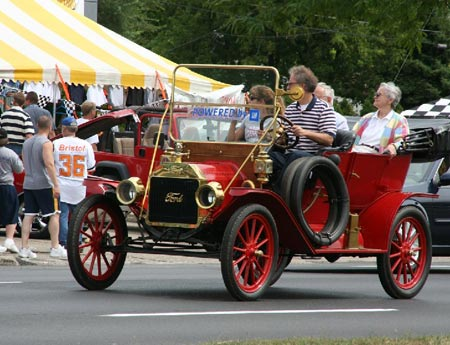 Of course, many Americans love cars. Across this great country there are many driveways where the daily ride resides nightly outside in the cold because the warm garage is reserved for some special and wondrously prized "baby". But here in Michigan every garage has such a "baby". No, really, EVERY garage! Drive down almost any street and most houses will have some "special" car sitting in the drive or garage, reserved for tinkering on weekends and for special drives when there is nowhere in particular to go.
And August is when they all come out!
More than sixteen miles of a road with four lanes in either direction will become an agonizingly slow, lava like, crawl of amazing automobile art on Saturday, while all along both sides of the road even more awesome cars of every possible description will be parked, hoods open, for admiring passersby to admire. Sections of the road will be staked out by car companies, supporting owners of their brand, and promoting their latest models. Other parking lots will be filled with members of various clubs, with their fantastic rides assembled like lines of gleaming soldiers in the sun. Every kind of car ever made anywhere, from the Corvettes, Mustangs and Chevelles of Detroit to the dune buggies of California and exotics from Italy, or the ancient British sports car to Volkswagen mini bus cut and chopped into something resembling a tall go-cart... all will be here.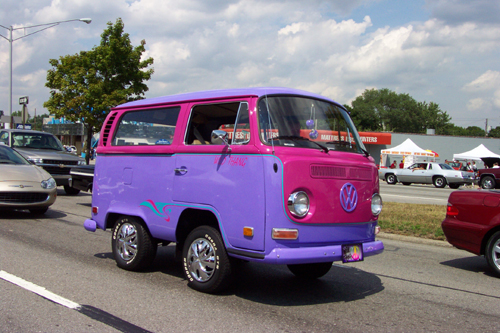 Vendors will hawk t-shirts and hotdogs. Businesses will close for the day, renting out their parking spaces to buyers eager for a good vantage spot to display their treasured wheels, or simply to get a good seat for the show. Visitors from other states, other countries, even other continents will view every kind of car and truck imaginable, and all functional and all cruising Woodward on this, the most awesome of all days of automobile devotion. If you have not seen it for yourself you simply cannot imagine the size, scope and variety of this insane "day of the car". If you love automobiles, you simply must come and see it for yourself. Consider this the mecca of the the automobile world, for most certainly that is what it is. Car lovers must make the pilgrimage.
So, with all that in mind, how can you really wonder why it is that this little company from Michigan has become the largest company in the country touring educational assembly programs to schools all over the country? The answer is very simple. What would a group of educators and artists, intent on blending the two skills to aid in the education of American kids, do? Why, we would travel, of course. Despite being artists and teachers, rather than line workers or designers, we are still Michiganders and gasoline is in our blood, and, by golly, we love … no... we LOVE to drive. So drive we do! Mile after mile, every year, racking up thousands of miles a week, hundreds of thousands of miles a year, touring from state to state, and bringing the very best possible school assembly programs to your school, in Iowa, or California, or Maine or Texas or wherever you are.
So give us a call. We will come and see you. And we will bring you a really great assembly program. Wherever you are.
But please. Wait till after this week. It's Dream Cruise Week!
Geoff Beauchamp is the Regional Manager of Mobile Ed Productions where "Education Through Entertainment" has been the guiding principal since 1979. Mobile Ed Productions produces and markets quality educational school assembly programs in the fields of

science

,

history

,

writing

,

astronomy

,

natural science

,

mathematics

,

character issues

and a variety of other

curriculum based

areas. In addition, Mr. Beauchamp is a professional actor with 30 years of experience in film, television and on stage. He created and still performs occasionally in Mobile Ed's

THE LIVING LINCOLN