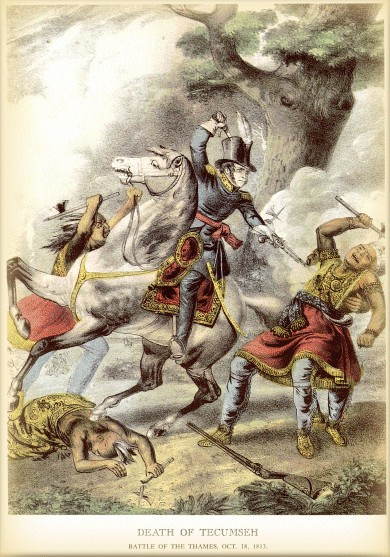 Today is the 5th of October and, historically, a day of some significance. President Chester Arthur was born on October 5 in 1829, and in 1892 the famed band of outlaws, the Dalton Gang, performed their last bank robbery, trying to get away with the gold from a facility in Kansas and getting pretty much wiped out in the process. On this day in 1962, the Beatles released their first single, Love Me Do, while the first James Bond film, Dr. No, was released to theatres. And Monty Python's Flying Circus premiered on British television. It was October 5 when the Wright brothers set a sustained flight record that would hold for several years. And it was on October 5 when the last best hope for the Native American tribes of the Ohio River valley was defeated and killed by an American army under the command of General William Harrison.
Native American leader Tecumseh was, as is well known, born in a village in what is now Ohio. Vehemently opposed to european expansion into Indian lands, he managed to create a coalition of various tribes, and then, when the War of 1812 broke out, he sided with the English coming down from Canada against the American settlers encroaching on Northwest Territory lands still claimed by the local tribes.
After initial successes in Ohio, the British and Indian forces were pushed out of Ohio and north through Michigan and into Ontario, where, on October 5, 1813, both sides clashed in a battle that destroyed the native force and in which Tecumseh lost his life.
This was the end of real native American resistance in lands east of the Mississippi river.
Schools all over the midwest study this part of American history, but especially those in Ohio, Indiana and Michigan, where almost all of the tribes were located, and where most of the battles were fought.
To aid in this study, Mobile Ed offers Piankeshaw Trails, a fabulous 45 minute long school assembly in which Native American traditions, culture and history is brought to life through the talents of Sheryl Hartman, a trained anthropologist, once married to a Native American, and bringing with her many years of experience in teaching these events to young children throughout the midwest.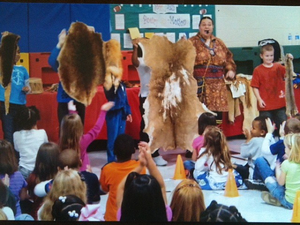 A study of the culture and history of the original midwesterners is mandated by state curriculums in several midwestern states. But even were it not, we believe knowing the history of these valiant people who lived here before us is important in itself. Moreover, so do kids. Kids love this show because it is fun. And teachers love it because it advances the curriculum. We think you will love it, too!
Geoff Beauchamp is the Regional Manager of Mobile Ed Productions where "Education Through Entertainment" has been the guiding principal since 1979. Mobile Ed Productions produces and markets quality educational school assembly programs in the fields of science, history, writing, astronomy, natural science, mathematics, character issues and a variety of other curriculum based areas. In addition, Mr. Beauchamp is a professional actor with 30 years of experience in film, television and on stage. He created and still performs occasionally in Mobile Ed's THE LIVING LINCOLN