Summer is rapidly coming to a close so I thought to offer a recap of our summer science camp programs and the great reviews we have been receiving.
If you recall, I wrote a few entries last Spring mentioning how well science assemblies work as a summer science camp activity. Well the summer is winding down and we have, once again, garnered some great reviews for the science assemblies we sent into science camps all over the midwest this summer.
Here in Michigan, since this is our home state, we have many such clients, but one in particular warrants mentioning. Up in Hartland, Michigan we visit one venue every year and have had great success with many of our different science shows. The kids there have a great time and learn a lot. This summer they opted instead for our awesome television production program, Lights Camera Action!, and everyone had a blast!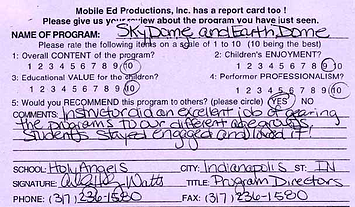 In Indiana this summer we worked with the Archdiocese of Indianapolis to bring both the Earth Dome and The Sky Dome to kids at two different locations. Camps were held at both Saint Philip Neri and at Holy Angels schools and the kids and coordinator were very pleased. Our presenter received very good reviews for his flexibility and ability to meet the needs of kids of different ages.
And down in Racine, Ohio, we had three science assemblies visit a summer camp and everyone had a great time. Chemistry, Physics and one of our natural science programs were all presented on different days, and the coordinator gave us great reviews for all three shows.
But most important, is that all over the midwest, school age kids not only had fun this summer, but also learned something and were able to experience the excitement in science. Summer is a great time to expand the horizons for kids. Science is a perfect activity to keep them occupied and keep them having fun, and, if they are not careful, they might even learn something!
By the way, if you are in the Chicago area don't forget that the Centre East School Assembly Performers Showcase takes place in Skokie Illinois next Wednesday, August 31. Come by and say hi!
Geoff Beauchamp is the Regional Manager of Mobile Ed Productions where "Education Through Entertainment" has been the guiding principal since 1979. Mobile Ed Productions produces and markets quality educational school assembly programs in the fields of science, history, writing, astronomy, natural science, mathematics, character issues and a variety of other curriculum based areas. In addition, Mr. Beauchamp is a professional actor with 30 years of experience in film, television and on stage. He created and still performs occasionally in Mobile Ed's THE LIVING LINCOLN.