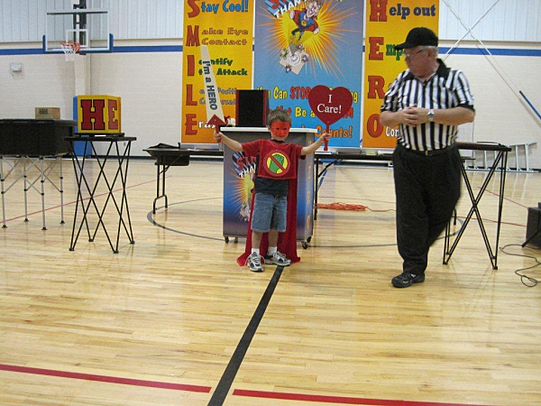 Stronger Than a Bully, Mobile Ed Productions' newest school assembly program, is enjoying a stellar first season with wonderful reviews from every school we visit.
Having swung through the states of Indiana, Ohio and Kentucky to kick off the year, the tour worked its way across Pennsylvania last week and is now on the East Coast visiting schools throughout New Jersey, Connecticut, Maryland, and Virginia before heading back to the Midwest in November.
East Coast schools wishing to still arrange a visit should act quickly as there are precious few openings still available.
Schools in Michigan and other parts of the Midwest should not delay either as the tour is now full in many areas and our waiting list for this year and next is growing at a rapid clip!
Here are a few reviews for Mobile Ed Productions' latest school assembly offering:
"Awesome, Talented Presenter!"
Needmore Elementary - Bedford Indiana
"Wonderful Program!"
Lincoln Trail Elementary - Lamar, Indiana
"An Outstanding Program!"
Meadowvale Elementary - Toledo, Ohio
"Great Program! Especially for the beginning of the school year!"
North Hancock Elementary - Lewisport, Kentucky
"Outstanding Program! Well received by staff and students! The presenter was excellent!"
Farmer Elementary - Sherwood, Ohio
and finally this ...
"Possibly the best assembly ever!"
Washington Elementary - Tiffin, Ohio
Wow! That presenter, by the way, is Mr. Dave Mitchell, one of our stable of awesome and wonderful performers diligently traveling the country bringing joy and learning to kids everywhere.
Dave is the same gentleman who brings our Reading! More Than Words, and Imathimation assemblies to grateful schools. He is also a perfectly marvelous Ben Franklin!
Rumor has it that Dave may have some new ideas for a follow up to Stronger Than a Bully for next year, and perhaps even a teacher in-service or a family night presentation to compliment the important work begun with the current program.Excitement is through the roof for this super cool new show!
We are trying to find ways to bring this school show to as many schools as possible because we strongly believe in the importance of this topic. But if we do miss you this year be sure to get onto our waiting list. When we begin scheduling for next year the names on our waiting list will be given preference. And that is important, because after this year we can promise another sell out in 2012!

Oh, one last thing... Schools in the area around New York and New Jersey should also consider our other great anti bullying program Shine Through! While not yet available in other parts of the country, Shine Through! is an awesome opportunity for Big Apple area schools to take a bite out of bullying with a second great school show!
Geoff Beauchamp is the Regional Manager of Mobile Ed Productions where "Education Through Entertainment" has been the guiding principal since 1979. Mobile Ed Productions produces and markets quality educational school assembly programs in the fields of science, history, writing, astronomy, natural science, mathematics, character issues and a variety of other curriculum based areas. In addition, Mr. Beauchamp is a professional actor with 30 years of experience in film, television and on stage. He created and still performs occasionally in Mobile Ed's THE LIVING LINCOLN.