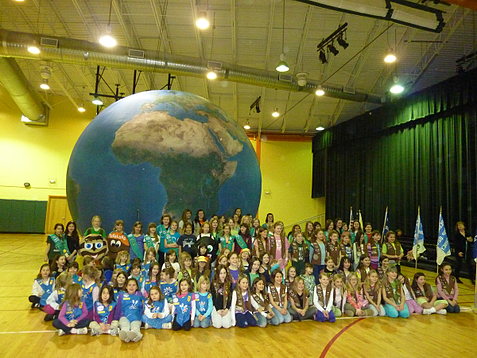 We spoke not too long ago about how well school assemblies and science assemblies work for Scout events. At the time we referenced in particular how great science assemblies like our Chemistry program are for the entertainment portion of Cub Scout Blue and Gold Banquets. All very true! Cub Scouts and science assemblies make a perfect match.
However, we don't want anyone to think we have forgotten the Girl Scouts. Many of our programs have been used by Girl Scout groups over the years, and to great effect!
Here is some news and commentary from a recent event in New Jersey. A group of Girl Scouts scheduled a visit from our earth balloon program, The Earth Dome. They were celebrating their Thinking Night, when they reflect upon and celebrate friendships around the world. Of course, having the earth balloon was a perfect fit!
You may remember us mentioning Tom Barry in the past. Tom is based in Long Island, New York but often performs in New Jersey schools and in schools in Connecticut and Eastern Pennsylvania. He is a dynamite presenter and a very popular young man with students. Appearing before a group of Girl Scouts, it doesn't hurt at all that our charming Mr. Tom is also quite... well my fourteen year old daughter would definitely say he was "cute", but I prefer to say he is a handsome young guy!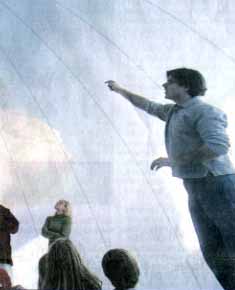 Regardless, as you can tell from the picture, the girls loved the earth balloon program. Here is a comment from Jennifer Cinotti the Troop leader of Troop 4082 in Green Township, New Jersey, addressed to our new Jersey representative Ken Jacobs:
"Our group consisted of girls from Kindergarten through High School and all who attended were excited by the enormity of the Earth Dome (earth balloon) and equally educated and entertained by Mr. Tom who presented the evening of our event.
Ken, from start to finish this event ran like a well oiled machine. You were very professional on the telephone when we first spoke and communicating by e-mail regarding the status of our contract worked out just as well. Mr. Tom was equally professional and was really great tailoring the program to all ages we had in attendance at our event."
Well, I told you Tom was good! I have not spoken about the agents that handle the scheduling here at Mobile Ed. Perhaps we will need to revisit that in the future, but Jennifer is right and schools in New Jersey love working with Ken Jacobs!
So, if you are looking for ways to entertain and educate and motivate Girl Scouts, the earth balloon is a wonderful way to go! Not just for school assemblies, the earth balloon science assembly is great for just about any group!
Here is some additional information about New Jersey school assemblies!
Geoff Beauchamp is the Regional Manager of Mobile Ed Productions where "Education Through Entertainment" has been the guiding principal since 1979. Mobile Ed Productions produces and markets quality educational school assembly programs in the fields of science, history, writing, astronomy, natural science, mathematics, character issues and a variety of other curriculum based areas. In addition, Mr. Beauchamp is a professional actor with 30 years of experience in film, television and on stage. He created and still performs occasionally in Mobile Ed's THE LIVING LINCOLN