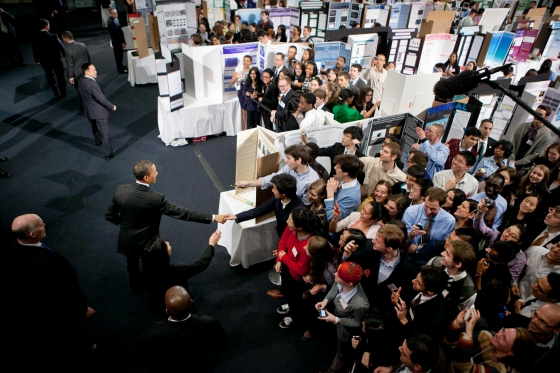 We have written before about the importance of science in the education of our children in order for the United States to remain a world leader in the future. We have also referenced before the interest and enthusiasm of President Obama for encouraging an interest in science among our youth. Yesterday, the President took time off from a busy schedule in New York to pay a visit to a New York City science fair.
http://www.whitehouse.gov/blog/2011/03/30/late-entry-new-york-city-science-fair
The President reiterated his own belief in the importance of science.
"By the scientists he has appointed, as well as by the budgets he's proposed—as reflected by the largest investment in science and innovation in our Nation's history—and by the policies and processes he has followed to apply science to some of our most challenging problems, including evidence-based decision-making in energy, agriculture, climate, and resource management, the President's enthusiasm and respect for science as a driver of policy has been unwavering."
Well we at Mobile Ed agree wholeheartedly which is why we have been providing educational science assemblies to schools for more than thirty years! Nothing instills in a child a love of science so well as an exciting live assembly program showing how science really is "cool"!
This year we add to our science assembly repertoire with a brand new science show - The Invisible Wonder! Air! - which joins a current roster of some eleven different science assemblies such as Chemistry! It Really Matters!, Physics is Fun!, Sky Dome Planetarium, and Crime Scene Science and others.
Geoff Beauchamp is the Regional Manager of Mobile Ed Productions where "Education Through Entertainment" has been the guiding principal since 1979. Mobile Ed Productions produces and markets quality educational school assembly programs in the fields of science, history, writing, astronomy, natural science, mathematics, character issues and a variety of other curriculum based areas. In addition, Mr. Beauchamp is a professional actor with 30 years of experience in film, television and on stage. He created and still performs occasionally in Mobile Ed's THE LIVING LINCOLN