Nature is a very cool thing! This was forwarded to me this morning and I thought I would share it.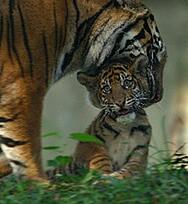 Out in California in a Zoo a mother tiger gave birth to a rare set of triplet tiger cubs.
Sadly, due to difficulties in the pregnancy, the cubs were born prematurely and, being tiny, they died shortly after birth. But after recovering from the delivery, the mother cat suddenly began to decline in health. Physically she was fine, but the veterinarians felt that the loss of her litter had caused the tigress to fall into a depression.
The vets then embarked on a scientific experiment. They hypothesized that if given a new litter to nurse the mother might improve. To test the validity of this they began a search trying to locate a suitable litter. Unfortunately, tiger cubs are rare and there were none to be found. So the staff at the zoo determined to try something radical.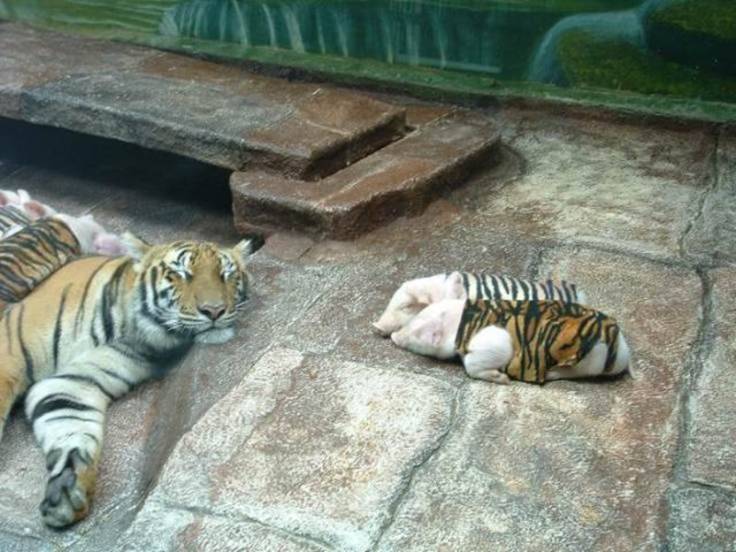 Sometimes a mother of one species will take on the care of a different species. The doctors located a litter of newly born baby pigs, wrapped the piglets in tiger skin and placed the babies around the mother tiger. Quite a lot to ask of the piglets in the name of science. Brave little piggies! They might have become dinner, right?
Wrong! Take a look: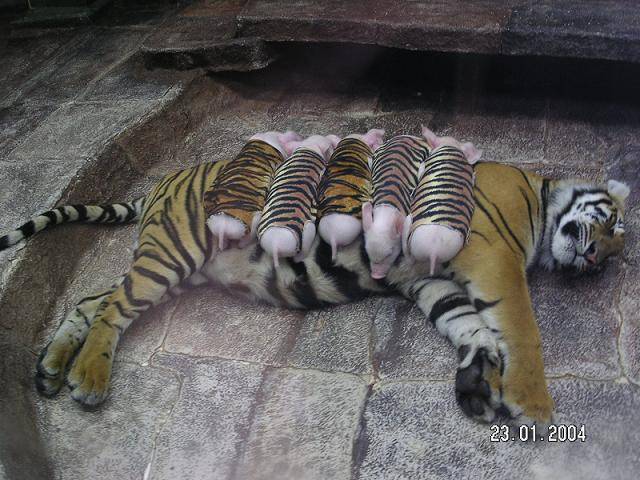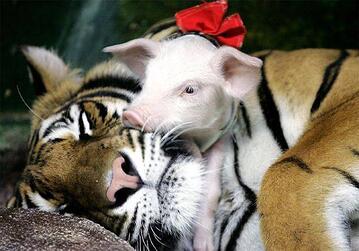 The validity of the hypothesis had been proven, and a happy ending (so to speak) was enjoyed by all!
Science is incredible! Nature is magnificent!
Which is part of the reason Mobile Ed offers Natural Science school assemblies such as Animals and the Environment and Reptiles are Cool. Introducing children to the science of wildlife at a Zoo is a great experience for them. But bringing animals into a school in a controlled school assembly format where children can get "up close and personal" with wild critters is an unmatchable opportunity to learn about wildlife, science and nature.
Science assemblies, in general are a great chance for kids to learn not only that science is not boring but also that science is really cool and exciting.
And sometimes even downright heartwarming!
Geoff Beauchamp is the Regional Manager of Mobile Ed Productions where "Education Through Entertainment" has been the guiding principal since 1979. Mobile Ed Productions produces and markets quality educational school assembly programs in the fields of science, history, writing, astronomy, natural science, mathematics, character issues and a variety of other curriculum based areas. In addition, Mr. Beauchamp is a professional actor with 30 years of experience in film, television and on stage. He created and still performs occasionally in Mobile Ed's THE LIVING LINCOLN