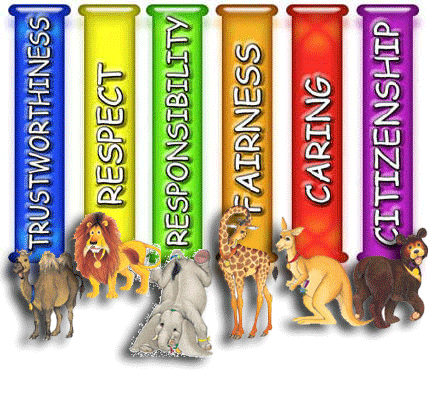 We love to bring you news from the front occasionally, especially when it concerns client schools and their reactions to our programs. After all, we can all use a pat on the back now and then, right?
So it is that today I bring you a review of a Mobile Ed Productions program from a school in Maryland.
Our Inspector Iwannano is a program about Character Counts and "the Six Pillars of Character". We have several great presenters offering this fine school assembly in different parts of the country. One of them is a wonderful fellow we call Rojo. Rojo was recently in Maryland at the John Archer School in Bel Air. Our client there is Stephanie Powell, and here is what she wrote to us:
"My name is Stephanie Powell, and I recently had the privilege of bringing
the Inspector Iwannano Show to my school, John Archer School in Bel Air, MD,
where I work as a paraeducator. We are a public special ed. school serving
students ages 3 to 21 with severe, profound and multiple disabilities.
Because of the nature of our school, I must confess, I was a little doubtful
of how the show would go over, but it looked promising. All my concerns,
however, were quickly laid to rest when Roosevelt Johnson (a.k.a. "RoJo")
took the stage. He was a professional in every sense of the word, and he
knew just how to keep our students' (and staff's) interest. RoJo did an
excellent job of involving our students as a whole group and individually, as
he brought some of them up to the stage with him. In particular, I was
impressed with how he didn't miss a beat when working with one young lady
who is non-verbal. He found plenty of other ways to help her communicate,
and it turned out to be the highlight of the show (it's amazing what a
little silly string can do!). Overall, I have heard nothing but positive
comments about the show, and I hope to bring Mobile Ed. back to John Archer
in the future. Hats off to RoJo!"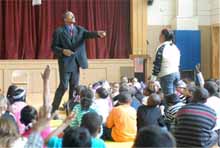 Well, I can't say we are surprised. Rojo has been with us for many years and has brought his magical performances to many schools all over the country. In addition to Inspector Iwannano he also offers a couple of science programs (The Magic of Science and Forces and Motion) and is also an unbelievably awesome Martin Luther King.
Rojo is not always available on the East Coast. Rather, he travels, mostly throughout the Midwest, with a trip or two to the East and/or Texas thrown in each year. Normally, though, Rojo is a mainstay of our talented Midwest school assemblies performer crew, visiting and astounding students in schools in Michigan, Ohio, Indiana, Illinois, Kentucky and several other areas of the Heartland. Rojo is a cherished member of the Mobile Ed Family of school assembly performers. More than that, he is a force of nature!
Has he been to see your school yet?
Geoff Beauchamp is the Regional Manager of Mobile Ed Productions where "Education Through Entertainment" has been the guiding principal since 1979. Mobile Ed Productions produces and markets quality educational school assembly programs in the fields of science, history, writing, astronomy, natural science, mathematics, character issues and a variety of other curriculum based areas. In addition, Mr. Beauchamp is a professional actor with 30 years of experience in film, television and on stage. He created and still performs occasionally in Mobile Ed's THE LIVING LINCOLN.