Yesterday we spoke a little about middle school assemblies and assembly ideas for school shows that play well at that age level. We just received a really nice e-mail following a performance of our Sky Dome Planetarium in California, and although this was an elementary school assembly, it reminded me how well this inflatable planetarium works for middle school aged kids as well.
Sky Dome is, of course, a portable and inflatable planetarium similar to the old Starlab planetariums of the past. But the improvements utilized by Sky Dome propel it far beyond the old Starlabs. Not only much larger and able to hold far more students per performance, Sky Dome also makes use of new digital star projection units which are light years ahead of the old analog system employed by the older generation Starlabs.
Jeannie Larson is our parent contact at Excelsior Elementary in Roseville, California. They recently hosted a day with our inflatable planetarium presented by our awesome California school assembly presenter Mario Tomic. Here is what Jeannie wrote:
"Mario did a fabulous job. He looks like Galileo! The assembly
was fun for the kids. We was a little late getting started on November 30th
but other than that we were impressed with the show. I almost wanted a
little more material on the planets... I didn't want to leave. The kids
were so excited to crawl through the tunnel. Some of the children were
scared and that was part of the fun of it. We would have you back sometime
in the future! Cheers to the Sky Dome Production! What treat to have space
come to our MPR Room and Excelsior Elementary School!"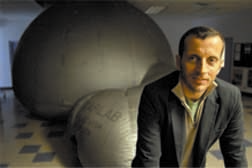 Now you should be aware that Mario is our suave european and a truly wonderful guy. Smart and sophisticated, but eminently approachable and open, as a school assembly presenter he is totally awesome and kids adore him. But, when it comes to middle school assemblies, his looks and european accent seem to present a slight advantage. The girls think he is adorable while the boys think he is cool, and when it comes to performing middle school assemblies, having kids think you are "cool" is a great place from which to start!
But the great thing about Sky Dome is that the technology gives us a powerful advantage as well. Just walking into the gym and seeing a huge silver dome where there should normally be a plain basketball court is always a huge adrenaline boost. And then, to enter the dome through the tunnel, and pass into a huge enclosed space with rounded walls and subdued lighting... well the excitement builds for anyone, regardless of age. As the performance begins inside the huge inflatable planetarium, the lights go down and the night sky appears above, produced by a state of the art, totally digital, computer generated projector and the sense of awe among the audience is palpable.
A school assembly inside such an amazing piece of equipment is always a great experience for any group, but it is especially valuable for middle school assemblies simply because they are so finicky about what they like.
But the value of Sky Dome for middle school assemblies is not just in it's theatricality. The content available for presentation is so vast that it is easily customized to fit the specific curriculum needs of middle school teachers. Ask the teachers at Barren County Middle School in Glasgow, Kentucky where the Sky Dome has been a regular annual visitor for many years. Astronomy is a key science component in the middle school science standards in Kentucky and many other states, and Sky Dome is the perfect way to bring those elements to life in a quite unforgettable manner.
So, coming up with assembly ideas for middle school assemblies isn't difficult at all. Besides this cool inflatable planetarium, there are lots of other options available as well. In the future we will try to bring some of these to your attention as well!
Geoff Beauchamp is the Regional Manager of Mobile Ed Productions where "Education Through Entertainment" has been the guiding principal since 1979. Mobile Ed Productions produces and markets quality educational school assembly programs in the fields of science, history, writing, astronomy, natural science, mathematics, character issues and a variety of other curriculum based areas. In addition, Mr. Beauchamp is a professional actor with 30 years of experience in film, television and on stage. He created and still performs occasionally in Mobile Ed's THE LIVING LINCOLN.