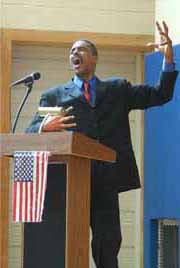 One of the nicer aspects of working in the school assembly business is hearing from our clients when they just love a program and cannot wait to tell us.
This morning I spoke with Connie Eide, principal at Valley Christian School in Aurora, Ohio. She was very happy to share with me just how much she and her staff and students had enjoyed our Martin Luther King school assembly, and especially the awesome performer on the school show, Mr. Roosevelt Johnson, otherwise known to his legions of fans as simply "Rojo".
Connie thought the show was wonderful, funny, good for all her students (K-8) and held some great lessons both in history and also about character and hard work.
I particularly liked one point that she made about vocabulary. Sometimes parochial, Christian and secular-public schools are all engaged in teaching the same thing, but coming at it from different directions and using a different set of words and vocabulary. She loved that Rojo's show taught the same lessons they are trying to teach, but in a vocabulary the students are not used to.
She was also pleased that Rojo could make the MLK school show appropriate across a wide grade range. They have grades K-8 but, being a smaller school, opted for a single performance. Now ordinarily we suggest breaking that wide an audience into two programs so our performers can address the older students differently that the younger ones. But Rojo is such a stellar performer that he takes it all in stride without missing a beat and all the kids have a good time.
If you are still seeking assembly ideas for MLK programs in elementary or middle schools, give us a call. Though sold out in some places, the program does still have a few openings, depending upon where you live.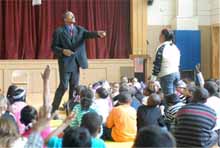 I cannot promise you will have Rojo as Dr King, but I can promise it will be a great school assembly!
Geoff Beauchamp is the Regional Manager of Mobile Ed Productions where "Education Through Entertainment" has been the guiding principal since 1979. Mobile Ed Productions produces and markets quality educational school assembly programs in the fields of science, history, writing, astronomy, natural science, mathematics, character issues and a variety of other curriculum based areas. In addition, Mr. Beauchamp is a professional actor with 30 years of experience in film, television and on stage. He created and still performs occasionally in Mobile Ed's THE LIVING LINCOLN.