As mentioned earlier, we had a booth at the Ohio Association of Elementary School Principals conference in Sandusky, Ohio this week. We had a great time and just wanted to give an update on how things turned out.
The conference is held at the spectacular Kalahari Resort, home to one of the largest and most elaborate water parks I have ever seen! The indoor portion alone looked to be twice the size of a football field. But the entire facility is world class in every respect. Kudos to OAESA for choosing such a great location for the conference, and one so family friendly for those principals bringing their own families along with them.
We had a great location and the conference and spoke to many principals throughout the day. It was great to see so many old friends, but also to meet so many new ones. Everyone was eager to learn about our variety of super cool school shows and assemblies, and especially about the large crop of new school shows we have for 12-13. We had a lot of interest in our anti bullying school shows, but also in our Native American show Piankeshaw Trails, as it suits Ohio Academic Standards so perfectly ( but then again, that can be said of almost all our shows!). Lots of principals entered our drawing for a free assembly, and we will be announcing the winner shortly.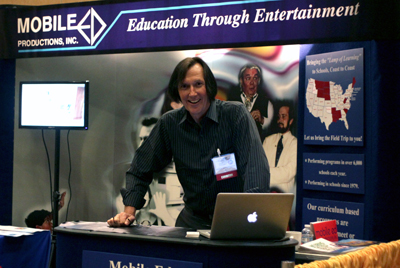 It was also wonderful to speak with so many other cool vendors who were also in attendance. We spoke to a lot that we have known over the years, but also some new ones.
All in all, it was a great day and one we look forward to repeating next year.
Next up, we will be visiting the great city of Louisville, Kentucky for the annual Kentucky Association of School Administrators conference in late July. This is another favorite of ours, held at the wonderful and historic Galt House right on the river in downtown Louisville. Looking forward to that one! Bring on the Mint Juleps!
Geoff Beauchamp is the Regional Manager of Mobile Ed Productions where "Education Through Entertainment" has been the guiding principal since 1979. Mobile Ed Productions produces and markets quality educational school assembly programs in the fields of science, history, writing, astronomy, natural science, mathematics, character issues and a variety of other curriculum based areas. In addition, Mr. Beauchamp is a professional actor with 30 years of experience in film, television and on stage. He created and still performs occasionally in Mobile Ed's THE LIVING LINCOLN.