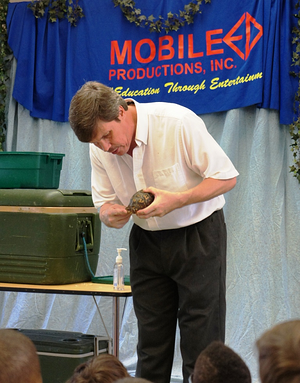 Every year, when school lets out for the summer, working parents across the nation are faced with a problem. What do you do with the kids all summer, especially when both parents work?
In many places, various organizations have hit on a wonderful solution. Summer Science Camps!
In these great events, children are dropped off each morning and placed in the care of experienced teacher-educators who lead them through a succession of days filled with cool science related activities. And these activities are not boring, stodgy science, but rather extremely fun and exciting stuff!
Over the years, as experts in making science fun and exciting for kids, Mobile Ed has aided many of these camps by providing our performers and our elaborate gear so that the level of activities these children enjoyed would be of the highest caliber.
One such event took place recently at a Montessori School in Dearborn Heights, Michigan, not far from our offices.
Jon Oliver, one of our great veteran school assembly presenters, was in residence that day, and he had with him some of the wonderful creatures from our natural science assembly program Animals and The Environment. Kids were enthralled by the various animals they were able to see and touch that day, and they all had a great time!
Every summer Mobile Ed sends presenters out to camps, especially in Michigan but really in many states, to aid in ensuring that children across the country have a great summer science experience. It may be a chemistry program on Monday and a mobile planetarium on Tuesday with a visit from some live animals the next day, but whichever of the shows or performers turn up it is a great day for everyone! This year alone, our performers visited countless locations in several midwestern states, from Minnesota to Tennessee, and from Michigan to Missouri.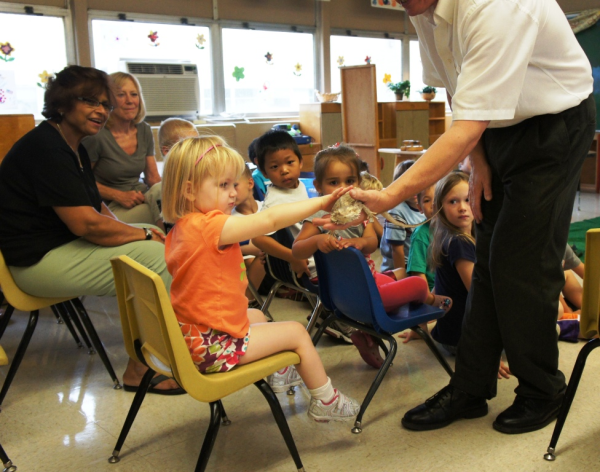 We take a lot of pride in our contribution to the education of America's kids, both during the school year and throughout the summer. Of course, it doesn't hurt that the job we do is also a lot of fun!
If you are looking for activities for your organization for next summer, give us a call! It is never too soon to begin planning.
Geoff Beauchamp is the Regional Manager of Mobile Ed Productions where "Education Through Entertainment" has been the guiding principal since 1979. Mobile Ed Productions produces and markets quality educational school assembly programs in the fields of science, history, writing, astronomy, natural science, mathematics, character issues and a variety of other curriculum based areas. In addition, Mr. Beauchamp is a professional actor with 30 years of experience in film, television and on stage. He created and still performs occasionally in Mobile Ed's THE LIVING LINCOLN.