Recently in these pages we have been developing a Guide to School Assemblies. Last time we discussed pure entertainment programs. Today we will look at science shows.
We all know how important science is to the future of our children. As evidenced by the proliferation of STEM initiatives across the country, educators nationwide are extremely cognizant of the need to engage students in science, technology, engineering and math because this is where the career of the future lie!
Science, technology, engineering and math are the four components of STEM education, and together they provide the keys to the future of our nation. No wonder there is a push to beef up education in these critical areas. Here at Mobile Ed, we have not been standing still either, and are meeting demand for STEM based education with our new STEM Museum.
But in the world of educational school assemblies and school shows, science assemblies are nothing new. Mobile Ed helped to pioneer this field back in 1979, and has consistently led the pack in producing high quality, educational science based assemblies ever since.
So what do we mean by a science assembly or a science school show?
Well, there are several different forms available.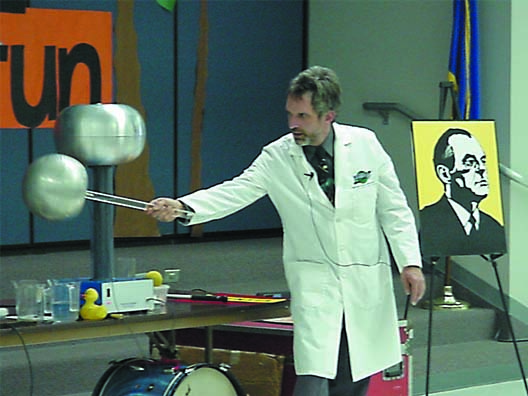 First, let us look at a basic school science show. The traditional format , which still works wonderfully today, involves a large group of students (usually) seated on the floor in the gym while a presenter in front performs, often with assistance from various audience members, various science based demonstrations. The program may be a general educational program drawing examples and demonstrations from numerous science segments, or it may be a very specific genre, dealing with one set area of science.
An example of the former, from our own catalog, would be The Magic of Science, where demonstrations take place using material from chemistry, physics, math and so on. Because these types of programs may take material from any area of science they have the advantage of often being very fast paced and exciting. In a mixed bag such as this the programs may shift rapidly from one area of science to another constantly engaging students with something new and different. However, they also have a downside. Educational programs that try to take in too wide a swath of content must, by necessity, reduce the detail with which any one section is explained.
On the other hand, we have very specific science programs that tackle just one area of science but do so with exacting specificity. Examples here, again from our catalog, would be Chemistry! It Really Matters! Or Forces and Motion. In these instances, one small portion of science is delved into in detail, allowing for a far more nuanced approach, with greater attention to that particular area of study. In the case of our Chemistry show, the core content of the program is designed to highlight the three essential states of matter – solid , liquid and gas – through demonstrations that not only make clear the distinctions but are also a lot of fun. In Forces and Motion, the program focuses on Newton's first three laws of motion with some additional material about gravity and centrifugal force. Again, a very specific area, allowing the program to meet many state standards.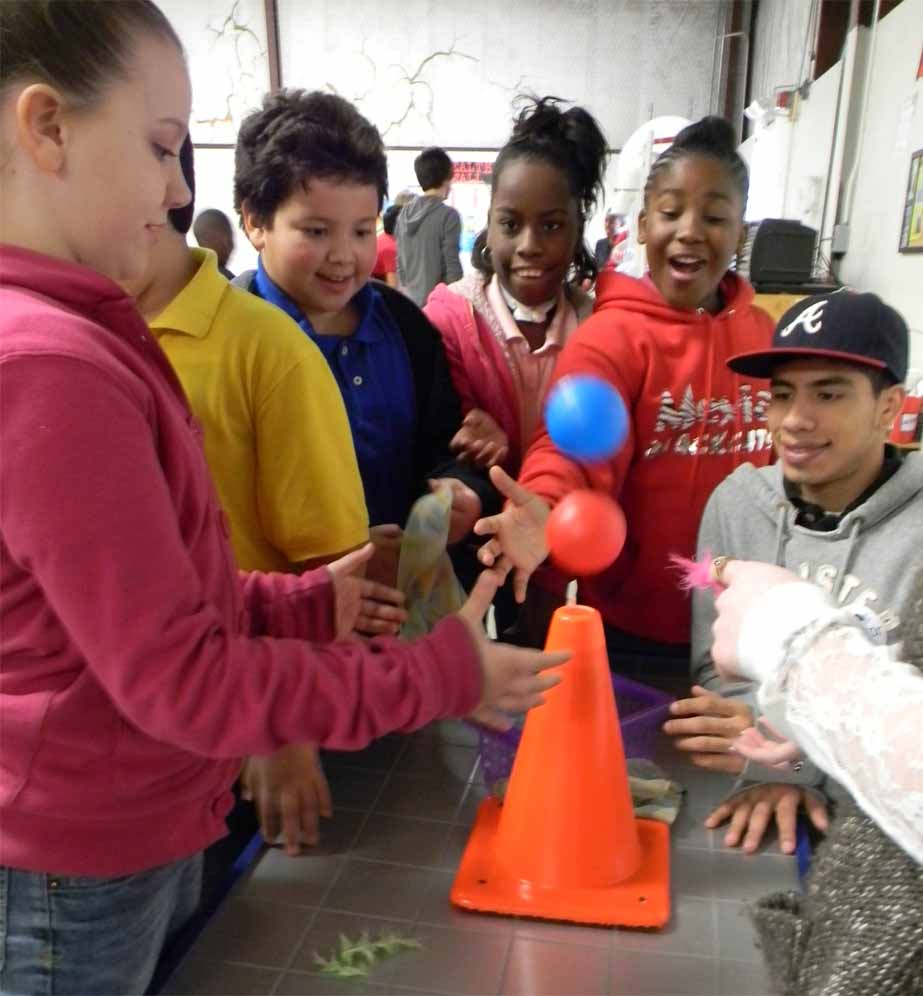 Of course, there are many performers and companies offering science programs within the format described above. However, the second component of science assemblies is not as widely available. Here we are speaking of hands on workshops.
There is an old quote sometimes attributed to Ben Franklin and other times to Confucius, that says" Tell me and I forget. Show me and I remember. Involve me and I learn."
Well to remember this when discussing the value of hands on workshops. Mobile Ed may well have been the first company to provide a hands on science experience when we began offering hands on workshops as part of our science show packages back in the early 1980's. Essentially, in a hands on workshop, the students are given the opportunity to actually be involved in the actual science experiments. The value cannot be ignored.
In some instances where hands on activities are offered as part of an educational science show at a school, small groups of students will work one on one with a presenter, who provides the materials and direct instruction and guidance. From our catalog of educational shows, such workshops are available with our physics program, our chemistry show as well as our program on Thomas Edison.
However, more recently, a new form of workshop has come into being. With the traditional small group format, it was usually impossible to offer workshops to more than a handful of classes. The newer format solves that problem allowing for an entire school to participate.
Various providers of educational science shows now offer what we term a "museum" style format of workshops. Here, a large array of different hands on displays are arranged around a large space such as a gym. In addition to the company representative, the school provides a number of parent volunteers. Students are then invited into the "museum" for a period of time in groups of 60-65 at a time and allowed to "play" at whichever station they choose, much as they would if on a field trip to a science museum.
Mobile Ed currently offers two such programs – Physics is Fun and Kidz Science Safari, and will in the Fall of 2013 begin performances with our newest addition to this lineup, The STEM Museum. Other companies offer similar products. Judging by the demand for programs such as these, and from the reactions we receive, the format is a wild success, and a sign of the future of educational science assemblies in general.
Beyond these two basic forms of science shows, there are other more specific types, such as mobile planetariums and natural science programs. More on these in future installments.
Geoff Beauchamp is the Regional Manager of Mobile Ed Productions where "Education Through Entertainment" has been the guiding principal since 1979. Mobile Ed Productions produces and markets quality educational school assembly programs in the fields of science, history, writing, astronomy, natural science, mathematics, character issues and a variety of other curriculum based areas. In addition, Mr. Beauchamp is a professional actor with 30 years of experience in film, television and on stage. He created and still performs occasionally in Mobile Ed's THE LIVING LINCOLN. He also spent ten years coordinating assembly programs for the elementary school where his own children went to school.