Wouldn't it be great to bring patriotism to your school? Invigorate that patriotic spirit this President's Day with a music and fun-filled assembly program everyone will love! David Jack himself introduces you to his very popular show The Spirit of America in this short video full of songs, history, and a positive outlook. Take a look!
Have you ever wondered where patriotic music like The Star Spangled Banner comes from? The Spirit of America shows you! Watch this short video (hosted by David Jack himself) to see what so many schools love!
One of the subjects this show spotlights is the accomplishments of America's service men and women. Students will understand that we only have the freedom and rights that we have because there are people out there fighting for those freedoms and rights every day. They learn how to properly thank someone in the military for their service, something even many adults are apprehensive about.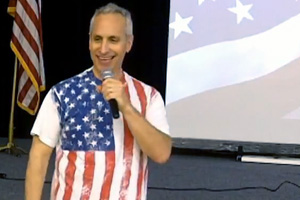 The Spirit of America contains lots of singing along and lots of audience participation. In addition to introducing popular patriotic music to your students, the program also blends important historic figures into the story. Everyone in the audience will be on their feet, marching, learning, and singing along!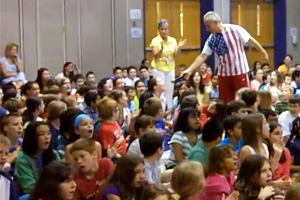 David Jack's The Spirit of America is the perfect blend of American history and the arts and will re-kindle the patriotic spirit in your school.
Find out more about this wonderful program here. If you'd like to book this show, just give us a call at 800-433-7459 or fill out this form and your regional representative will get back with you very soon.