Take a trip around the planets with our brand-new astronomy assembly
We're excited to announce an exciting new science assembly - Our Solar System! Developed by one of our most experienced and educated performers, Our Solar System uses our Sky Dome planetarium dome and digital projector to take your students on a trip around, well, our solar system!
---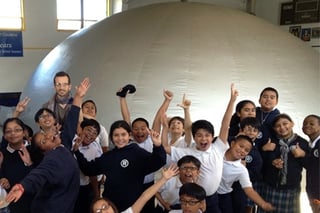 This immersive presentation (using our SkyDome planetarium system) will give a little historical background on how our understanding of the solar system has changed throughout human history.
The presentation will closely observe the latest images of various planets, moons and dwarf planets in our solar system! Also, we will time travel to our future and our past to see various astronomical events such as various planetary transits and lunar eclipses. We will closely observe our one moon and our loyal natural calendar - the Moon.
This presentation will try to inspire and encourage students to share these interests, and perhaps one day become scientists and answer some of the questions that our human ancestors had been curious about for centuries.


Our Solar System discusses:
The origins of astronomy
An in-depth discussion of every planet in the Milky Way including dwarf planets
How to find planets in a telescope and how to tell them apart from stars
The exploration of the solar system through astronauts and unmanned missions
And more!


Watch this short video to see the Sky Dome planetarium system in action!
Our Solar System is available exclusively in California, Orego and Washington, however we might just make a special trp out to your school. Get a hold of us and let's see what we can work out!
Give Mobile Ed Productions a call today at 800-433-7459 or click the button below to find out how you can bring this awesome experience to your school this year!