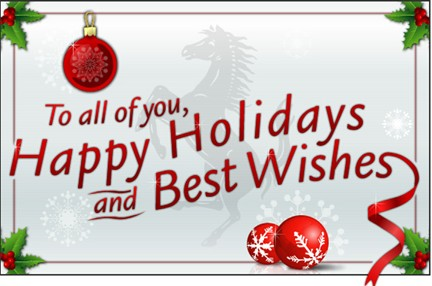 Today is December 20, and at about lunchtime today we will be swinging the heavy gates shut for awhile here at our home office in Michigan. We will all be taking a little time off for the Christmas holidays, as most of you will be, too, we hope!
The office will essentially be closed until the morning of January 6. But don't worry! A few of us will be popping in from time to time to check the voice mail and answer emails. Additionally, our "skunk works" guys will still be hard at work (those guys never sleep!) in the back room, making repairs to current shows and continuing to develop our exciting new programs for next year, as you have come to expect from America's school assembly company, your source for the very best school shows and school show performers in the country.
Regardless of what special holiday your family celebrates this time of year, we here at Mobile Ed Productions offer you our best wishes for a happy, safe and altogether wonderful holiday! And a very Happy New Year!
See you next year!
Geoff Beauchamp is the Regional Manager of Mobile Ed Productions where "Education Through Entertainment" has been the guiding principal since 1979. Mobile Ed Productions produces and markets quality educational school assembly programs in the fieldsof science, history, writing, astronomy, natural science, mathematics, character issues and a variety of other curriculum based areas. In addition, Mr. Beauchamp is a professional actor with 30 years of experience in film, television and on stage. He created and still performs occasionally in Mobile Ed's THE LIVING LINCOLN. He also spent ten years coordinating assembly programs for the elementary school where his own children went to school.