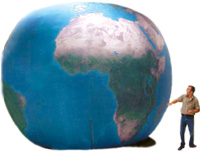 Just a quick note today, as we are out of the office. We are in Sandusky, Ohio exhibiting at the Ohio Association of Elementary Administrators (OAESA) annual conference. It has been a great day so far, meeting many current clients (old friends) and many more who have not run across Mobile Ed Productions before (new friends).
As an extra bonus this year we brought along and set up our Earth Dome and it has been a great hit. The Earth Dome (also known as The Earth Balloon) is a giant inflatable globe that stands 19' tall and is covered in high-resolution photographic imagery taken from space. The lovely Kathleen Day, from Springfield, Ohio, has joined us today. Kathleen is one of our very talented presenters who bring The Earth Dome to schools throughout the Midwest every year. She is a delight and we are happy she has been able to join us today.
All morning we have had a steady stream of excited principals touring the Earth Dome and all have been equally impressed by the educational value of this great teaching tool!
The Earth Dome is one of several environmental programs Mobile Ed produces. In light of all the current events around the globe, from the oil spill in the gulf to the changes in our climate, the company is proud to be able to contribute to students' awareness of the importance of these issues.
Tomorrow – Authors and Writing programs!
Geoff Beauchamp is the Regional Manager of Mobile Ed Productions where "Education Through Entertainment" has been the guiding principal since 1979. Mobile Ed Productions produces and markets quality educational school assembly programs in the fields of science, history, writing, astronomy, natural science, mathematics, character issues and a variety of other curriculum based areas. In addition, Mr. Beauchamp is a professional actor with 30 years of experience in film, television and on stage. He created and still performs occasionally in Mobile Ed's THE LIVING LINCOLN