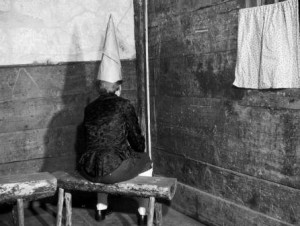 I am a dunce. I must be a dunce.
Recently we wrote about how well school assemblies work as library programs, to encourage kids to attend and use libraries. Well, all that is true, of course, and school assemblies are great for enticing kids to visit their local temples of literature. But I have been called to task by one of my performers for an act of omission. Mea culpa, mea culpa!
Though I mentioned several great school shows, perfect for libraries, I failed to mention two that are performed by a really great fellow named Dave Mitchell. Dave hails from the great state of Tennessee, but performs school assemblies all over the Midwest as well as on the East Coast and in Texas. He is the performer for three of our shows, but two of them are, as he carefully and forcefully pointed out, absolutely perfect for libraries.

First and foremost, Dave is our Ben Franklin presenter, and his show is a really great school assembly.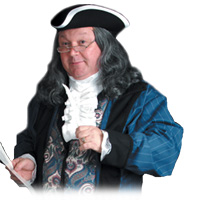 But it works in a library, as Dave, as Dave carefully reminded me, because Ben Franklin was the founder of the first library in the United States and, of course, Ben Franklin was also a printer, responsible for the very creation of many books. So I stand humbly corrected, and equally chastened by my lapse. Mea culpa!
But even worse was my omission of Dave's other program. And, frankly, this was a real forehead slapper!
Dave also does a program called Reading! More Than Words!
Reading! A reading program. Duh!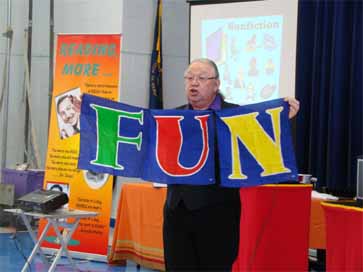 Well, of course a school assembly about reading will play well in a library! And it does. Very well. So, your "two times an idiot" writer is exposed as negligent. Mea culpa again and again.
But you don't have to feel bad, because now you can look into bringing Dave to your library and scoring a great hit with one of his great school assemblies!
Dave! Is all forgiven? May I take off this pointed hat and come out of the corner now? Please!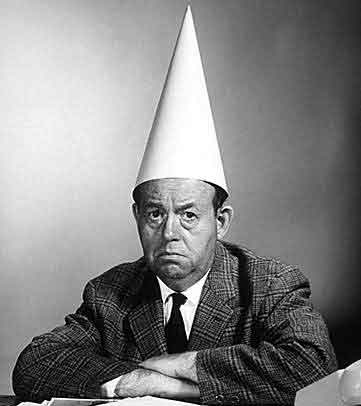 Geoff Beauchamp is the Regional Manager of Mobile Ed Productions where "Education Through Entertainment" has been the guiding principal since 1979. Mobile Ed Productions produces and markets quality educational school assembly programs in the fields of science, history, writing, astronomy, natural science, mathematics, character issues and a variety of other curriculum based areas. In addition, Mr. Beauchamp is a professional actor with 30 years of experience in film, television and on stage. He created and still performs occasionally in Mobile Ed's THE LIVING LINCOLN