Well, I didn't know this existed, but apparently today is a special day! Today, May 17, is apparently Museum Memory Day when we are supposed to share a great memory of a visit to a museum. Look here:
http://www.museum140.com/node/3?utm_source=twitter&utm_medium=twitter&utm_campaign=twitter
What a novel idea!
Museums are so cool! I have always loved puttering around in museums. I know many people love art museums, but my favorite were always either science and technology or history museums. I have great memories of the Natural History Museum in New York, and the Museum of Science and Industry in Chicago. I also had the good luck to visit a really cool Science and Technology museum in Munich, Germany one year.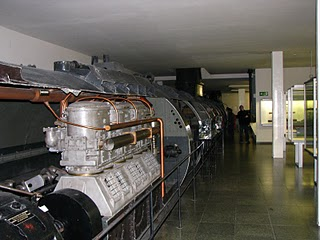 I will never forget how they had sliced an entire U-Boat from stem to stern and hung one side of the entire ship on a wall, so that you stroll along side and view the entire interior! And the hands on activities in science museums are especially cool!
Of course, school age kids benefit tremendously from the museum experience which is why so many school arrange field trips to museums across the country. Sadly, some schools are too far away to be able to arrange to travel to a good site. And others simply are unable to cope with arranging the logistics for such a trip.

Happily, Mobile Ed provides an alternative to field trips which is easy and inexpensive. Physics is Fun, a science assembly program offered by Mobile Ed not only includes an exciting 45 minute "show" to start the day but also turns your gym into a hands on science museum for the rest of the day with about a dozen different tables each with a cool physics-related hands on science activity. This is an awesome day for the school. For those more interested in the natural history type of museum, Mobile Ed has you covered, too! Piankeshaw Trails, a brand new program for Mobile Ed, introduces your students to the life and culture of the native American woodland tribes by way of an interactive school assembly featuring a museum quality array of artifacts, textiles, hunting materials, clothing and animal hides. It is the next best thing to visiting an actual tribal village!
So relish your memories of visits to museums today, but if it is too difficult to arrange a visit for your school give us a call. We can bring the experience to you!
Geoff Beauchamp is the Regional Manager of Mobile Ed Productions where "Education Through Entertainment" has been the guiding principal since 1979. Mobile Ed Productions produces and markets quality educational school assembly programs in the fields of science, history, writing, astronomy, natural science, mathematics, character issues and a variety of other curriculum based areas. In addition, Mr. Beauchamp is a professional actor with 30 years of experience in film, television and on stage. He created and still performs occasionally in Mobile Ed's THE LIVING LINCOLN