Issues of Character have become an important part of the education of our children all over the country. Several years ago an initiative was launched to develop good character in children through the Inspector Iwannano program. This drive features the philosophy that there are different pillars of character such as Trustworthiness, Respect, Responsibility, Caring, Citizenship, and Fairness. Not a bad package of virtues, to be sure.
In support of this drive, Mobile Ed offers a program entitled Inspector Iwannano which directly reinforces all of these values.
Many of our client schools like to offer this program in addition to our other more traditional fare of science and social studies school assemblies.
And many schools especially like to feature this type of school assembly early in the year in order to set a tone about ethical issues for the entire school year.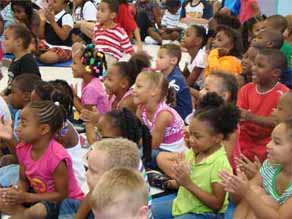 In Algonquin, Illinois, a suburb of Chicago, the entire district is focusing on character development this year and to kick off the year we have been invited to perform Inspector Iwannano for one of their schools on the first day of school in August! As a result, one of our best presenters of this program will be in the Chicago area this year. Dates are open in August and September for him to help other schools in and around Chicago to kick off their year with a fun and exciting school assembly that drives home the message that character matters!
But don't delay! His dates are limited and many schools like to start their year in this manner.
Geoff Beauchamp is the Regional Manager of Mobile Ed Productions where "Education Through Entertainment" has been the guiding principal since 1979. Mobile Ed Productions produces and markets quality educational school
assembly programs in the fields of science, history, writing, astronomy, natural science, mathematics, character issues and a variety of other curriculum based areas. In addition, Mr. Beauchamp is a professional actor with 30 years of experience in film, television and on stage. He created and still performs occasionally in Mobile Ed's
THE LIVING LINCOLN