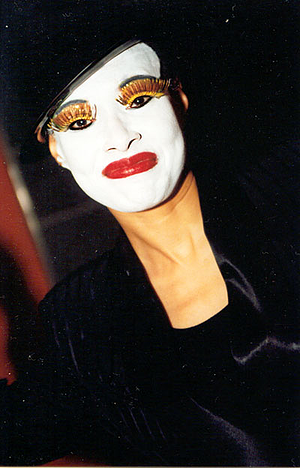 As recent articles here have made clear, most of the school assembly performers Mobile Ed sends into schools are on tour, traveling from town to town, from state to state throughout the year. Some major metropolitan areas, however, allow us to station a performer there year round, much to the delight of schools in that area, since this opens up a whole lot more dates from which they may choose. Last week I wrote about a couple of our performers resident in the greater Chicago area. Today I wish to draw your attention to New York and New Jersey.
A few years ago we were in need of a performer to present our Young Authors Day on the East Coast. A very talented and charming young mime was brought to our attention in the person of Ms. Lluanna Jones.
Resident in New Jersey, Ms. Jones is a wonderful actress and mime. She has a long list of professional theatre credits and studied classical mime with Yass Hakoshima and the New Jersey Centre for Mime as well as the Gregg Goldston Mime Studio in New York City. She has shared her Mime Magic with carnivals, festivals, schools and corporate events all over the east Coast.
And she has proven herself amazingly adept with our Young Authors Day program performing for us these past few years to rave reviews in schools all over eastern New York, New Jersey and Eastern Pennsylvania. If you have not seen or experienced Young Authors Day then you are in for a real treat when you do! This is one of the most amazing school assembly programs! As a mime, Lluanna performs for the school, delighting students but also demonstrating how stories can be brought to life through the silent art. Students then return to class where they write stories for her. In the afternoon they are rewarded with another assembly where the stories they wrote that morning are amazingly brought to life on stage by this talented young woman! This simple and elegant yet astonishingly effective school assembly program works wonders in the area of inspiring and motivating children to write.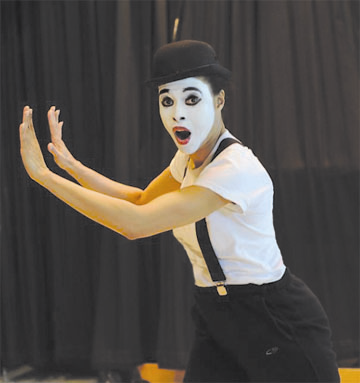 In addition to her talent as a mime, I mentioned that Lluanna is also a very good actress, and in this role we have employed her as well, performing our historical school assembly program They Made a Difference, about famous women in history. And following this, Lluanna created her own school show - The Spirit To Overcome - which tells the tales and lauds the accomplishments of various famous and important women of color in history.
So schools in New Jersey and schools in New York have a wonderful asset available to them! Lluanna is available in those two states and in parts of Eastern Pennsylvania throughout the year bringing her performance magic to schools and delighting children and teachers alike.
By the way, demand for dates for Black History Month in February, is strong. If you are looking for ideas about how to celebrate Black History and have not made plans yet, The Spirit To Overcome would be a great choice but don't delay. February is the shortest month and dates fill in for this show very quickly!
Geoff Beauchamp is the Regional Manager of Mobile Ed Productions where "Education Through Entertainment" has been the guiding principal since 1979. Mobile Ed Productions produces and markets quality educational school assembly programs in the fields of science, history, writing, astronomy, natural science, mathematics, character issues and a variety of other curriculum based areas. In addition, Mr. Beauchamp is a professional actor with 30 years of experience in film, television and on stage. He created and still performs occasionally in Mobile Ed's THE LIVING LINCOLN.