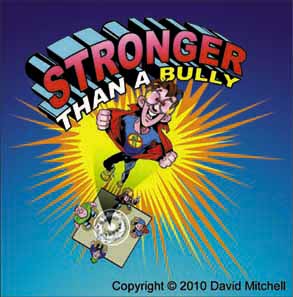 We mentioned yesterday that Dave Mitchell was coming back to Ohio and Michigan schools next week after touring the East Coast the last month or so. His anti bullying school assembly - Stronger Than a Bully - was especially popular among New Jersey schools.
Our contact at the Sussex Avenue school in Morristown, New Jersey writes: "I heard a few teachers say this was the best assembly! It kept the kids interest the entire assembly. Excellent message! Explained well the key points on what to do if a bully picks on you or someone else. Excellent Performance! Professional Speaker! All 10's!"
I guess she liked it!
Meanwhile, our client at Alfred Vail school in Morris Plains, New Jersey writes: "Dave Mitchell is a great professional and talented artist to have at the school! Thank You! All 10's!"
Similar reviews are pouring in from schools in South Amboy, New Jersey, Middletown, New Jersey, Blackwood, New Jersey and all over the state, not to mention other parts of the East Coast.
We are really happy that Dave had such a good trip on the East Coast, and was such a success in New Jersey! But, at the same time, we are ecstatic to have him returning to the Midwest and our schools in Ohio and Michigan that are so eager to get him back.
Welcome home, Dave! It will be good to have you back and we hope you are looking forward to coming home!
Geoff Beauchamp is the Regional Manager of Mobile Ed Productions where "Education Through Entertainment" has been the guiding principal since 1979. Mobile Ed Productions produces and markets quality educational school assembly programs in the fields of science, history, writing, astronomy, natural science, mathematics, character issues and a variety of other curriculum based areas. In addition, Mr. Beauchamp is a professional actor with 30 years of experience in film, television and on stage. He created and still performs occasionally in Mobile Ed's THE LIVING LINCOLN.