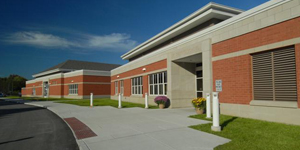 I was out of the office yesterday in the morning. I went over to Northwood Elementary School in Royal Oak, Michigan, because our program Stronger Than a Bully was performing there. Since Stronger Than a Bully started out on tour on the road this year, this was the first time I was to have an opportunity to catch a live presentation of this great new and important school show.
And I was not disappointed. Far from it!
Our clients in Royal Oak had scheduled the show to be at the school for the whole day performing multiple times so audiences could be small and segregated by age (always preferred!). I watched three different performances, two for primary groups and one for a fifth grade audience. Wow!
It is always such a pleasure to revel in the mastery of truly gifted and experienced professional performer, and Dave Mitchell is just such a school show veteran. With years of performances under his belt as a magician and ventriloquist before ever turning his skills to educational school shows, Dave is truly awesome to watch! His skill in holding the attention of the audience, making them squeal with laughter, listen in awed silence when needed, and never grow restless or bored, is in itself a superb skill when so many lesser school show performers cannot accomplish even these most elemental tasks. But beyond these basics, Dave invests himself in his performance in so many ways that all help bring home his powerful and important message about bullying like no one else can.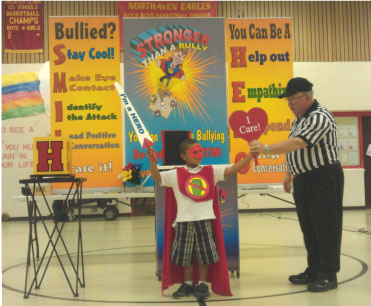 And what a message it is! With all the attention lately about bullying, it is refreshing to see such a common sense approach taken, in essence giving kids the skills they will need for a lifetime of avoiding becoming a victim. And all done with a sense of love and compassion infused with bedrock values that can be offensive to no one. Bravo, Mr. Mitchell! Bravo!
If you are seeking an anti bullying school show for your school, you could not do better than to invite a performance or two of Stronger Than a Bully. But be advised... this tour is virtually sold out for this school year, with only isolated slots still open in a few areas. A waiting list is already growing very rapidly for the 2012-2013 school year. If you are interested in bringing this awesome school show tour to your school... well ... don't delay. Don't be left out! The time to call for next school year is now!
Geoff Beauchamp is the Regional Manager of Mobile Ed Productions where "Education Through Entertainment" has been the guiding principal since 1979. Mobile Ed Productions produces and markets quality educational school assembly programs in the fields of science, history, writing, astronomy, natural science, mathematics, character issues and a variety of other curriculum based areas. In addition, Mr. Beauchamp is a professional actor with 30 years of experience in film, television and on stage. He created and still performs occasionally in Mobile Ed's THE LIVING LINCOLN.