Every so often we like to blow our own horn. Who doesn't? And I wanted to quickly share these short reviews we recently received following a couple of programs in different locations.
We are blessed to count among our talented performers Ms. Lluana Jones, who is based in New Jersey. Lluana performs several programs for us. She is a superbly skilled classical mime and usually presents our Young Authors Day and Mime Time programs for us on the East Coast. In addition she is our Eastern representative for our women's history school show They Made a Difference. And she is quite wonderful in all three shows. But her special love is her African American history program entitled The Spirit To Overcome, which is focused on the accomplishments of women of color throughout the history of this great nation. She was recently invited to perform in this program at Swimming River Elementary in Triton Falls, New Jersey. Judging by the response, I would say she was a big hit! But this is no surprise to us as we have long been aware of Lluana's enthusiasm and passion for her work. Here is what the school had to say:
"Our teachers and students enjoyed the assembly. The presenter, not only presented the information so that it was understood by the students but the staff and I really enjoyed it as well. Her voice and mannerism as she explained each character was amazing. At first, I did not know what to expect but she is truly an asset to your company. Thank you for sending her to us. I plan to recommend her to the other schools in my district as well as surrounding districts. Please let her know again how much we enjoyed it.
I am putting the balance of our assembly in the mail this morning. Thank you again. I plan to look into some of your others as well."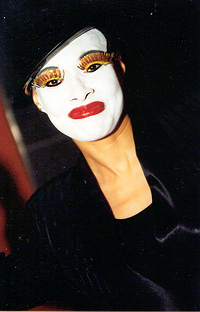 Pretty cool, huh? Lluana is an asset indeed, and we are all very proud of her.
Next up, from a very different part of the country, I'd like to share with you a response from a performance of our awesome Earth Dome (Earth Balloon) school show, out in Illinois. This came to us from the Raymond Grade School in Raymond, Illinois. The performer was our beloved Michael Carrell, who has performed in a number of different roles for us over a good many years. Michael is known and well loved for his great sense of humor and his wonderfully easy going manner. Here is what they thought of him in Raymond.
Overall content – Amazing
Children's Enjoyment – Amazing
Educational Value – Astronomical
Performer Professionalism – Wonderful
Recommend? - Yes
"It was wonderful. Students, Staff, and Parents were very impressed with the Performer..... Thank You! Please give the Performer a Thumbs Up we really enjoyed him!!"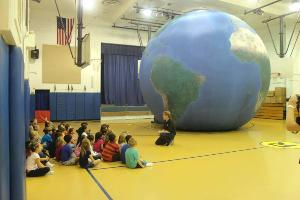 So there you have it. Please excuse our pride in our performers. We work very hard to bring you the very best school assemblies and school shows possible, with the very best school assembly performers. Naturally, it's a nice feeling to be recognized. :-)
So, when can we come and visit your school?
Geoff Beauchamp is the Regional Manager of Mobile Ed Productions where "Education Through Entertainment" has been the guiding principal since 1979. Mobile Ed Productions produces and markets quality educational school assembly programs in the fields of science, history, writing, astronomy, natural science, mathematics, character issues and a variety of other curriculum based areas. In addition, Mr. Beauchamp is a professional actor with 30 years of experience in film, television and on stage. He created and still performs occasionally in Mobile Ed's THE LIVING LINCOLN. He also spent ten years coordinating assembly programs for the elementary school where his own children went to school.