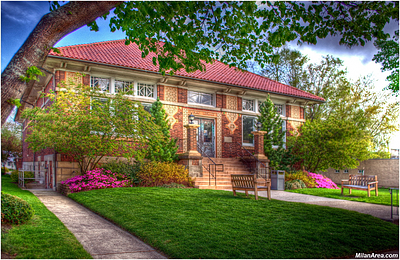 Last Friday Mobile Ed performer Thomas Johnson, known to many of you by his mime name of Toma, had a really unique opportunity.
Besides his magnificent skills as a mime, and the legendary success he achieves with his signature program, Young Authors Day, Tom is also a wonderful actor. In addition to his mime program he also performs in two other programs for Mobile Ed. He offers a dazzling science program called The Invisible Wonder:Air! But he also impersonates the great inventor in our program on Thomas Alva Edison. And he is really awesome in that role.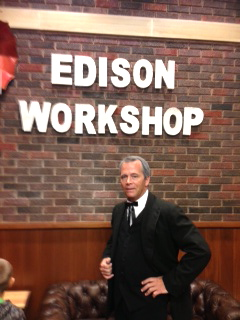 Well, you may not know this but Thomas Edison's home town is Milan, Ohio, where he was born in 1847. Though he moved to Port Huron, Michigan with his family at the age of seven and grew up there, and although he became famous as "the Wizard of Menlo Park" in New Jersey, where his Labs were located later in life, Milan retains its claim as Edison's "hometown".
Well, last week the town of Milan had an exciting event take place. The old Carnegie Library downtown reopened after major renovation and with some wonderful additions, as the new Milan Public Library. The new facility was crafted very carefully using skilled,artisan bricklayers who did such a marvelous job carefully matching the original brickwork and roofing that it is impossible to detect where the old work leaves off and the new begins.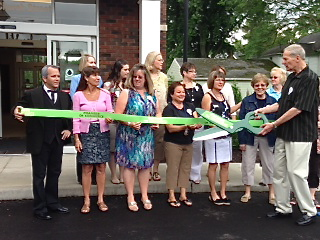 To celebrate the grand reopening a series of events were planned to mark such an auspicious occasion. Friday night boasted a special gala opening VIP gathering attended by the Mayor and various village officials as well as a specially invited State Senator together with some 200 various other audience members.
But also in attendance at this stellar gathering was the man himself! Thomas Edison returned to Milan for the occasion in the person of Toma who rose to the occasion in remarkable fashion, mixing in conversation with the attendees and supplying a short speech to the welcoming crowd.
Then, on Saturday, for the official public opening, Mr. Edison was there once again, helping to set the tone and entertain the throngs of adults and children who came out to see the new facility, commemorate the day and meet Mr. Edison.
A grand time was had by all!
I just spoke with our contact in Milan, Kathy Olak, who was very happy and mentioned that they had a great turnout for both events. She was particularly pleased with how successful Saturday was what with the library absolutely packed with children all day, on a warm, sunny Saturday in July! How often does that happen? She was effusive in her description of Toms success, and ventured how happy she would be to supply a reference for Tom to anyone considering the program in the future.
Of course, none of this comes as a surprise to us here at Mobile Ed. As wonderful as it is to hear glowing reports about our performers, we kind of already know that they are really good at what they do. That's why we send them to you!
But it is lovely to hear of the success in Libraries. We perform many thousands of times a year in schools, but visits to libraries are less common. Over the years we have done many of these, so we know we can make a big contribution when it comes to encouraging kids to visit the library, but not all librarians are aware that we exist and can offer them these options. Which is a shame, really, because working to get kids to read and visit the library is something we love to do.
Tom is ready. So are all our other great performers. So … when can we come and see you?
Geoff Beauchamp is the Regional Manager of Mobile Ed Productions where "Education Through Entertainment" has been the guiding principal since 1979. Mobile Ed Productions produces and markets quality educational school assembly programs in the fields of science, history, writing, astronomy, natural science, mathematics, character issues and a variety of other curriculum based areas. In addition, Mr. Beauchamp is a professional actor with 30 years of experience in film, television and on stage. He created and still performs occasionally in Mobile Ed's THE LIVING LINCOLN. He also spent ten years coordinating assembly programs for the elementary school where his own children went to school.