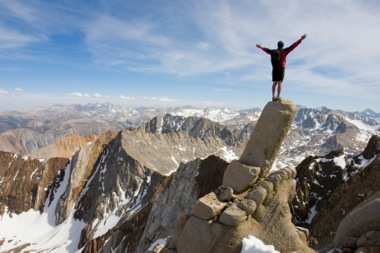 Today marks a couple of interesting achievements from the history books, both coming from around the middle of last century. They both have something in common and both provide a great lesson for kids today.
As everyone knows, in 1927, Charles Lindbergh made the first solo, non stop flight across the Atlantic Ocean. One of the men who helped build and prepare that famous plane, and who actually pulled away the chocks as the famous flight began, was a man named Doug Corrigan. Born in Texas, Doug was fascinated by flight and inspired by Lindbergh's achievement. He decided to try to duplicate it. Following years spent as an aircraft mechanic, and as a "barnstorming" pilot, he got together enough money to pick up an old junked plane which he set about restoring and refitting.
In 1938, in his jalopy of a plane, Corrigan made a flight from California to New York. He then announced we was going to fly the Atlantic. However, the flight authorities took one look at his plane and denied permission for the flight, thinking it a virtual suicide mission. So, instead, Corrigan made planes for a return flight to California. On July 17, Corrigan took off from Floyd Bennett Field in Brooklyn, New York, heading west. But shortly after takeoff his plane reversed direction and disappeared to the East. Sometime later the plane touched down in Ireland. Corrigan emerged saying he had just arrived from New York and did not know where he was. He claimed equipment failure had caused him to fly in the wrong direction, and so was born the nickname he would sport from then on - "Wrong Way" Corrigan. No one believed his tale of equipment failure, but he was, nonetheless, welcomed back to the United States with celebrity status.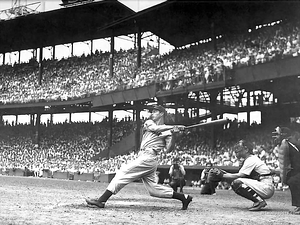 A few years later, in 1941, the son of an Italian fisherman in San Francisco, California also made history. His name was Joe DiMaggio. He became one of the stars of the New York Yankees during their golden years, and in 1941, Joe began a streak of 56 consecutive games in which he hit the ball. This achievement still stands as the all time record to this day.
And it was on this day, in 1938, that Wrong Way Corrigan flew the Atlantic, and in 1941, that Joe DiMaggio finally ended his hall of fame streak of hits.
So is this the connection I mentioned tying these two men together. Not really. A more important connection is in the tenacity with which both these great men pursued their dreams and overcame adversity. Who would have expected a lowly fisherman's son or a poor boy from Texas to achieve such greatness? Yet both did.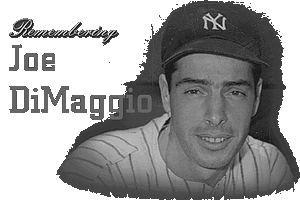 And this is the lesson we must teach our kids. Greatness is out there just waiting for any or all of us if we have the courage and the tenacity to go after it. It is in all of us.
We do try to convey this lesson in several of our school shows and assembly programs.
The character counts program – Inspector Iwannano - touches on it, as do several others. But where the message is most profoundly offered is in the programs we perform based on the lives of famous men and women. The Abraham Lincoln program stands as a stunning example of the potential for greatness among even the least likely among us. Who would have predicted the future for that gangly barefoot boy in the woods of Kentucky and Indiana? Or the Martin Luther King program, echoing the words of a man who inspired so many to step up and meet their own potential in life. Or Ben Franklin. Or Amelia Earhart. Or Harriett Tubman. The list goes on and on.

Kids need to hear these stories. They need to know that, for them, just starting their lives, the sky, and even beyond that, truly is the limit.
Tell them about old "Wrong Way". Tell them about how he picked his plane out of a junk pile. Tell them about Joe, and about Abraham and Martin. And don't stop reminding them that they can be just as great. The stories of our past are the inspiration for our future.
Geoff Beauchamp is the Regional Manager of Mobile Ed Productions where "Education Through Entertainment" has been the guiding principal since 1979. Mobile Ed Productions produces and markets quality educational school assembly programs in the fields of science, history, writing, astronomy, natural science, mathematics, character issues and a variety of other curriculum based areas. In addition, Mr. Beauchamp is a professional actor with 30 years of experience in film, television and on stage. He created and still performs occasionally in Mobile Ed's THE LIVING LINCOLN. He also spent ten years coordinating assembly programs for the elementary school where his own children went to school.