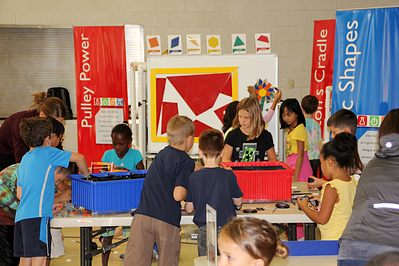 Mobile Ed's newest and groundbreaking school assembly program, The STEM Museum, rolled into it's first schools last week, and the reviews are are as awesome as we would have hoped!
The STEM Museum is a new kind of school assembly. Not some tired magician pretending to present science while rolling through some hoary old act, The STEM Museum presents schools with a gymnasium brimming with hands on activities drawn from the fields of science, technology, engineering and mathematics. This awesome new program is essentially a field trip to a hands on science center, but minus the travel. This museum sets up in your school for the day.Complete with 3D printing, robotics, super fun problem solving exercises, and a whole host of other amazing activities, the STEM Museum allows students to spend their time moving from one center to another at their own pace absorbing many, many different learning opportunities.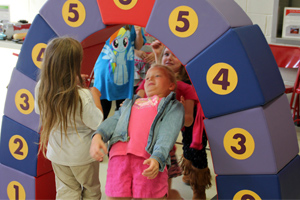 But don't take our word. Here is a comment from one of the teachers at the shows first performance:
"The hands-on aspect was wonderful, and not having the boundaries of NEEDING to stay at any one center, for a specific amount of time allowed for differentiation of needs/interests for most kids!"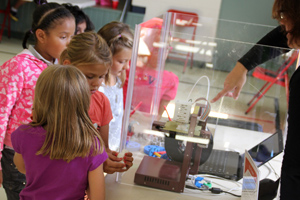 Promoting STEM education is the foremost aim of high end education in the United States today. Exposing kids to cutting edge technology at an early age and inspiring them to want more is the goal of The STEM Museum. Judging from the following comment we seem to have hit that mark. Here is what the Mrs. Letitia Tappan, principal at Eastover Elementary in Bloomfield Hills, Michigan had to say of the very early performance at her school:
"STEM was by far one of the best assembly/ activities we have ever had at Eastover for our students. Every student regardless of ability or age was fully engaged. I liked that it was organized to peak student interest and not just everyone go to every center. I will recommend this to other schools in our district."
Thanks, Mrs. Tappan! Your reaction is exactly what we were hoping for when we set about to create a new kind of school assembly program to meet the needs of 21st Century schools.
And here is one more from one of the teachers:
"The whole concept was GREAT and the kids loved it."
If you would like to have The STEM Museum visit your school, though, you had better contact us soon. The tour crosses the entire country this year, starting this month on the East Coast, traversing the Midwest this winter before journeying across the plains to Colorado and then Texas, to end it's odyssey on the West Coast next Spring. But already dates for many states are sold out. In several areas we already have substantial waiting lists for dates for 2014-2015. Those dates will go on sale in March of 2014. Call today and see if we are still able to offer a date for this year in your area!
Geoff Beauchamp is the Regional Manager of Mobile Ed Productions where "Education Through Entertainment" has been the guiding principal since 1979. Mobile Ed Productions produces and markets quality educational school assembly programs in the fieldsof science, history, writing, astronomy, natural science, mathematics, character issues and a variety of other curriculum based areas. In addition, Mr. Beauchamp is a professional actor with 30 years of experience in film, television and on stage. He created and still performs occasionally in Mobile Ed's THE LIVING LINCOLN. He also spent ten years coordinating assembly programs for the elementary school where his own children went to school.