History can be a delicate subject in today's climate, but one of the most important lessons we can teach students today is that of the life of Abraham Lincoln.
Now I know what you are thinking; you don't want some cheesy character dress-up assembly worthy of a costume party. At Mobile Ed, we take the story of Mr. Lincoln's life very seriously and our show, The Living Lincoln, is a must have addition to this year's curriculum.
What is most amazing to me is the honesty and reverence our performers bring to the role. It's very authentic and many times students become so involved in the show that you can almost hear a pin drop.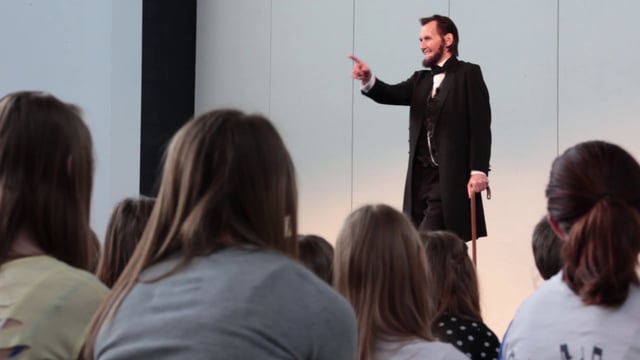 You really get sucked into the presentation. It begins out with some stories about his life growing up which is very identifiable to today's youth as he describes losing his mother and having to adjust to having a stepmother with new brothers and sisters.
Of course one cannot talk about Mr. Lincoln without going into the sensitive but extremely important subject of slavery. We know that this is not the easiest piece of American History to teach, but the topic is handled so well that you really come to an understanding concerning all aspects of the North and the South's involvement. Plus, we also have different level of shows designed for different age groups so students of all ages can learn something from this amazing show.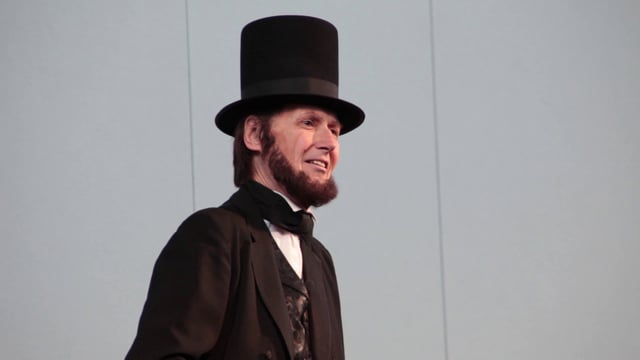 One of the most touching aspects of the show is Mr. Lincoln talking about his passion for knowledge. Even if he did not have enough money for a better schooling, he shows by example that one could still further their education if they were driven enough to study on their own. Lincoln shows that anyone can still always make a difference if you try.

And to think, it all started as a bit of a challenge from one of Lincoln's lawyer friends. During a conversation where Abe seemed down on himself, that he just did not have the financial means to follow his dreams, his friend handed him a stack of books and said "You would be a great lawyer. When you read and know these books, then you well be ready."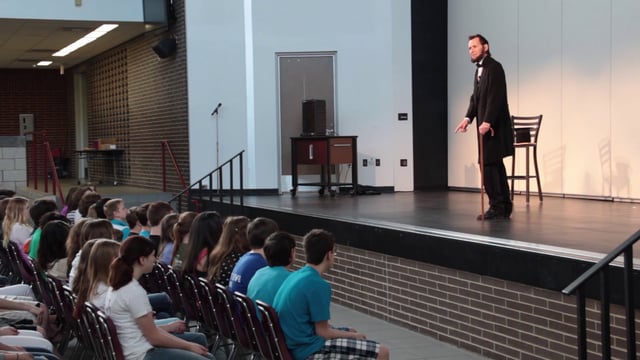 Mr. Lincoln had the gumption and carried those books around for 3 years. He studied hard and eventually he did indeed become a great lawyer, which eventually paved the way to become our 16th President and arguably our greatest American Leader.
The Living Lincoln assembly show also did a great job of breaking down the motivations and particulars of the events that led to the American Civil War with very little finger pointing and just sticking to the facts. One of which is how much care and pride Mr. Lincoln took when visiting wounded soldiers. He really did care and it comes across when he talks about the sleepless nights he had sometimes worrying how he was going to stop all this violence and bring folks home from the fighting.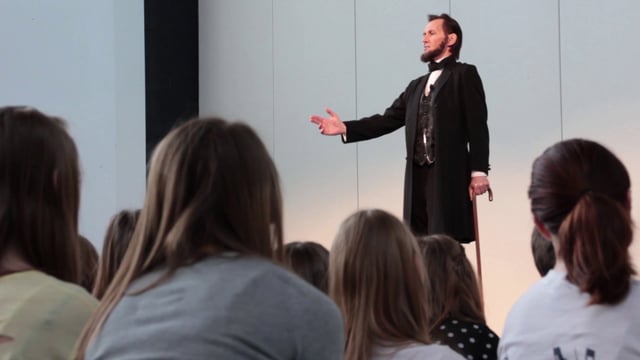 The Living Lincoln from Mobile Ed really is a great show.

I had the fortune of seeing the show with a group of students who seemed genuinely moved by the experience. Even as an adult, I learned a lot when I saw the production and it even made me want to find out more about Mr. Lincoln! It was a bit of an awakening of just how truly great he was and how much compassion we could and should always have for our fellow man.