This short video will show you everything you need to know in order to have a successful experience with Mobile Ed's STEAM Museum. From facility requirements to volunteers to scheduling your sessions, this video should answer many of your questions about this exciting opportunity for your students.
---
Thank you for your interest in Mobile Ed's STEAM Museum! This short video will show you what you can expect on the day of our visit.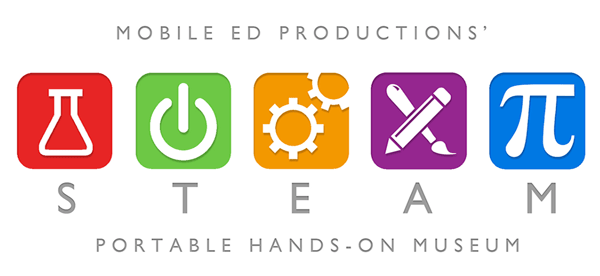 STEAM Museum is an exciting, interactive program that transforms your gym or multipurpose room into a hands-on children's museum. It includes at least 10 stations featuring a wide variety of cross-curriculum activities and an open format, allowing students to explore and learn at their own pace.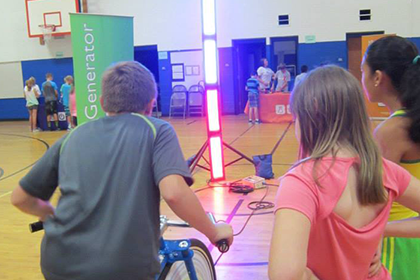 Mobile Ed's STEAM Museum is presented in up to eight 45-minute sessions per day. To avoid overcrowding, we ask that the session size be limited to no more than 60 kids.
STEAM Museum has a lot of moving parts, so it's important to understand how to prepare your facility and staff for the best day possible.
Facility Requirements
In order to have a successful day of STEAM Museum you will need to provide a few things.
First, you'll need an open indoor area, roughly 50 feet by 50 feet. A gymnasium or cafeteria works best.
Handicap accessibility is required. The equipment comes in large cases that cannot be taken up or down stairs.
You will also need eight folding banquet tables, and three electrical outlets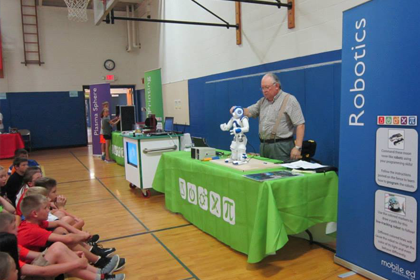 Additional Requirements
To ensure smooth operation throughout the day, we also ask that you provide at least one person to assist with the loading and unloading of the equipment. This person must be at the venue 2 hours before the program's start time.
The program also requires six adult volunteers to help run the various stations throughout the entire day. Parents love getting involved in what their kids are doing so it's usually easy to find enthusiastic volunteers.
Lastly, to ensure the best possible experience, you must complete the online STEAM Museum Worksheet. This short and simple process includes creating the schedule for the day so there are no conflicts or overlaps. Completion of the STEAM Museum Worksheet is extremely important and should be done as soon as you are able, no later than 2 weeks before your scheduled date.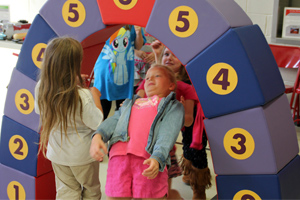 Your day begins two hours before the designated start time of your first session. Your presenter will meet the provided assistant at the venue and begin to load the equipment into the presentation space. The eight banquet tables will also need to be brought into the room and set up before or at this time.
Once everything is in the room, the load-in helper is free to go and your presenter can take it from there. The set-up can take up to 90 minutes. While we appreciate the offer of help, this process actually goes faster if the presenter is left to it.
When the stations are set up, it's time for your six volunteers to begin their brief orientation. Your presenter will walk them through the various activities, explaining not only the function and rules of each station, but also the educational take-away. Your presenter will then assign volunteers to each station. For the best possible experience, it's important for your volunteers to "stay at their post" and not wander.
It's about this time that the first session of students will start coming into the room! Students will be instructed to sit in a designated area for a 10-minute introduction. Once they learn what to expect at each station and learn the rules of the museum, they're free to explore the different hands-on exhibits for the remainder of the session.
There is a 5-minute break between each session so your presenter and volunteers can reset all of the stations and make sure the next group of kids is just as impressed as the previous.
After the last session of the day, your presenter will begin packing up the equipment. Here, a couple of volunteers can help fold tablecloths, pack some equipment, and take down the tables to speed up the process.
When the equipment has been packed into its cases, it only needs to be loaded back into your presenter's vehicle. This is when we'll need your load-in/load-out volunteer once again.
Once everything is loaded up, bid your presenter farewell until next time! They're off to bring the field trip somewhere else.
Thank you so much for watching this video on how to ensure the best possible day of Mobile Ed's STEAM Museum for you and your students. If you have any questions, please call your regional representative at 800-433-7459.
We can't wait to bring the field trip to you!


---
Check back again for more close looks at the various Stations of STEAM to see what you and your kids will be able to explore when you bring Mobile Ed's STEAM Museum to your school.
Ordering STEAM Museum couldn't be easier. You can call Mobile Ed directly at 800-433-7459 or click the button below to learn more about the program.