I sit tonight watching the beginning of Game 3 of the American League Championship Series. The New York Yankees are tied one game apiece with the Texas Rangers, and tonight's game is in Yankee Stadium.

The place is packed and the excitement is so thick you can cut it with a knife (well, almost!). It is so easy for all of us to be excited and motivated by the competition of sports.
If only it were that easy to motivate our kids regarding all the other areas of study they pursue in school! Not too many children find the same excitement in the study of history or math!
Well, in some ways it can be. Obviously, some schools are blessed with remarkably exciting teachers who can stand in front of a class and tease open their students' minds to discover the real excitement that can be found in a story from the past, or the real thrill that can accompany the unraveling of a difficult problem in math. But not all classes or schools are so blessed. Sometimes it is easier for someone to come in from outside. Someone the kids do not know. Someone with a slew of exciting and mysterious props and contraptions,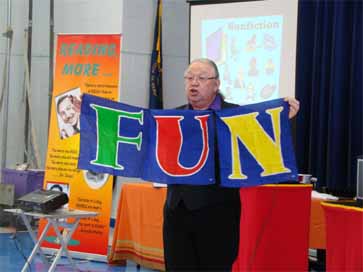 or with the actor's story-telling skills to bring alive some fragment of dusty history and turn it into something more fresh and fascinating than anything from … well, from even the World Series!
And when the auditorium explodes with excited laughter, or falls so silent a pin falling would audibly clang in the ears of those in the room next door, that is when you, the coordinator who brought the program to the school, can smile quietly and know that you may just have made an impact on some of these children that may just last a lifetime. And what can be better than that?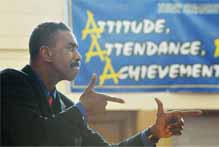 School assembly programs offer a world of possibilities that schools can seldom match. From history, we can visit with Abraham Lincoln, Thomas Edison, Martin Luther King or Amelia Earhart. Or a talented presenter may mesmerize an audience with the world of Mathematics or Chemistry. Or a giant silver dome may escort children into the realms of outer space! Whatever you choice, or need, there is an assembly program to help you find your way!
Geoff Beauchamp is the Regional Manager of Mobile Ed Productions where "Education Through Entertainment" has been the guiding principal since 1979. Mobile Ed Productions produces and markets quality educational school assembly programs in the fields of science, history, writing, astronomy, natural science, mathematics, character issues and a variety of other curriculum based areas. In addition, Mr. Beauchamp is a professional actor with 30 years of experience in film, television and on stage. He created and still performs occasionally in Mobile Ed's THE LIVING LINCOLN